A bungling shop raider who threatened an Aberdeen shopkeeper and stole seven jars of coffee fractured his skull after being rugby tackled by a passer-by as he fled.
Michael Rae went into Bridge Street News in Aberdeen city centre with a knife on Boxing Day last year and swiped a coffee jar in full view of staff member Shihab Yahia Arabi.
Mr Arabi approached the 43-year-old and told him to put the coffee back or pay for it.
He then followed Rae around the shop to make sure he would not try to steal anything else, Aberdeen Sheriff Court heard.
An argument then broke out between the two men and Rae held up his arm to show Mr Arabi he had a knife concealed up his sleeve.
Shocked, Mr Arabi retreated, went behind the shop counter and called the police.
The court heard how Mr Arabi "is a big-built man" who would have been "well able to deal" with Rae, of Deansloch Terrace, Northfield, had the pair come to blows but Mr Arabi did the right thing by instead alerting police.
Rae grabbed seven jars of coffee and ran out of the shop, Sheriff Jack Brown was told.
However his attempt to flee was cut short. Seconds after Rae left the store, a bystander who had seen part of the robbery rugby tackled Rae to the ground. The force of the tackle caused Rae to hit his head on the pavement and he suffered a fractured skull.
Following his recovery in hospital, Rae was charged with assault and robbery – charges he admitted at Aberdeen Sheriff Court.
At a hearing on Wednesday, the court heard Rae "had no recollection of what had happened, though he accepts that his intention was to steal from the shop".
The court accepted that, while Rae had the knife, he did not brandish it, or threaten Mr Arabi with it during the robbery, though he "uttered threatening remarks" and "presented the knife".
The court heard Rae has a drug problem and was willing to co-operate with any training programme.
Sheriff Brown said: "Usually, in cases that come before me where someone has a knife during a confrontation, the perpetrator should be taken to prison. As far as this case is concerned, 13 months in custody would be correct.
"However, I'm prepared to defer sentence while we look at the possibility of a Drug Treatment and Testing Order (DTTO).
"That is an intensive course which you must comply with.
"It goes without saying that if you do not comply with the DTTO, you will be going to prison."
Rae was told to reappear at the court on October 3.
After the hearing, the shop's manager, Reeha Khan, told the Evening Express: "I am glad the court has given this man another chance.
"He cannot remember what happened because he was under the influence of something and there was no damage to the shop."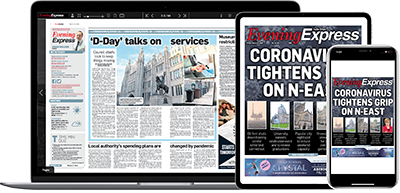 Help support quality local journalism … become a digital subscriber to the Evening Express
For as little as £5.99 a month you can access all of our content, including Premium articles.
Subscribe