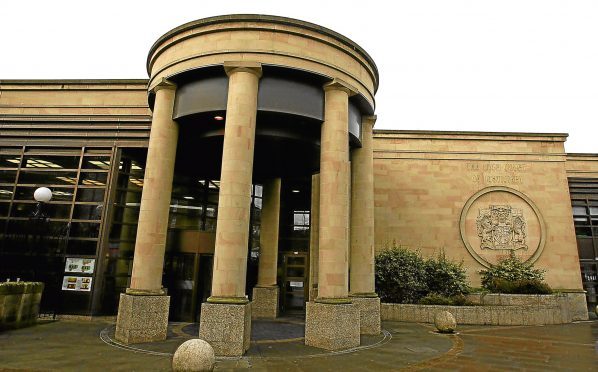 Two women are behind bars after being caught with almost £200,000 of drugs in the flat they shared.
Former couple Kelly McNabb, 26, and Hannah Alexander, 24, were caught with heroin and cannabis when police raided their Aberdeen flat last July 29.
McNabb launched a package out the window as officers forced their way in and found £157,000 of heroin and £18,000 of cannabis.
She later claimed she owed £2,000 to a man who was going to reduce her debt if she stored drugs for him.
McNabb, from Downpatrick, Northern Ireland and Alexander, from Dundee pled guilty at the High Court in Glasgow  to being concerned in the supply of drugs on July 29, last year.
Police received intelligence that there were drugs at Provost Graham Avenue flat in Alexander's name and where she was living at the time with her then-partner McNabb.
A raid was carried out around 9.10pm after a search warrant was granted.
Advocate depute Owen Mullan QC said: "Whilst entry to the property was being forced an item was thrown out of the kitchen window and landed on the window ledge.
"Entry was gained and both McNabb and Alexander were traced in the kitchen.
"Both were cautioned and detained in terms of the Misuse of Drugs Act and whilst under caution, McNabb stated words to the effect, 'The guy has just left, he just phoned and told us to get rid of the stuff'.
The court heard large amounts of suspected drugs were seen on display.
McNabb told police: "Did you get the stuff out the window? I put the stuff out the window."
A search of the flat was done and drugs recovered in the house and on the window ledge.
Mr Mullan said that in the various packages of heroin found had a potential street value of £157,000 and a potential street value of £18,000 of cannabis.
Scales with traces of heroin were seized as was a bag, blender, sieve and bowl, taken from the veranda.
Fingerprints of both women and their DNA was found on packages with both drugs in them.
Mr Mullan added: "During interview she advised that she had accrued a debt of £2,000 to an unidentified male as a result of losing money she previously collected on his behalf."
She claimed he advised £350 would be taken off her debt for keeping the drugs on his behalf.
Judge Lord Beckett deferred sentencing for reports until August at the High Court in Edinburgh.
He told the pair: "You no longer enjoy the presumption of innocence, you have pled guilty to serious charges and I am not prepared to continue bail."