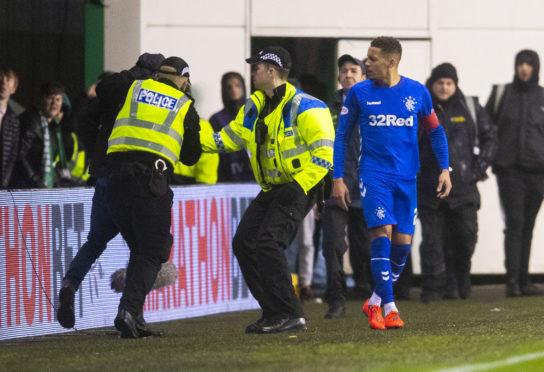 Once again this column is having to dedicate space to concerning incidents this week.
In the aftermath of the Hibs fan confronting Rangers captain James Tavernier on Friday night, the Scottish FA, while saying repeated supporter bad behaviour was a league issue, revealed there were measures in the works to help prevent idiocy like the Easter Road incidents – a glass bottle was launched at Celtic's Scott Sinclair last week, seat throwing from Rangers fans at Pittodrie, officials and players being hit by coins, and more.
It would be nice to know what the measures are. The fact of the matter is these problems are an issue for all of football, so the governing bodies, clubs and other parties should be pulling together to quickly put a stop to them.
There shouldn't be any reluctance to be involved and help tackle the problems from any side of the game.
I was amazed Hibs' CCTV wasn't able to find the culprit from the Sinclair incident.
If the glass bottle had hit the winger, it could've been a disaster.
Clubs need to be responsible for behaviour on their premises and must invest money in the technology required to perform their duties.
Otherwise they are not doing their job properly.
They should also be reviewing whether there are enough stewards to monitor supporters and, if not, get more trained up to a better standard and into the grounds.
All parties need to be more forceful in their actions as well as their words.
I can't see why strict liability hasn't been accepted by the clubs.
There are other types of business where the event hosts are responsible for what happens on their property and on their watch.
It would also help with self-policing.
Well-behaved fans are more likely to root out the idiots who think they can do whatever they want at the football if there's the chance of the club suffering financially or from a points deduction.
The incident in yesterday's Midlands derby, where a fan punched Aston Villa's Jack Grealish, pictured right – or something even worse – could be next if Scottish football doesn't address this major, escalating problem urgently.