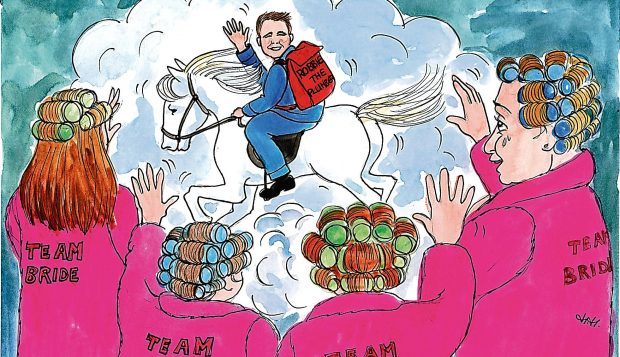 Eighteen months in the planning (and panicking) and finally – last Saturday – my quine's wedding.
Now you'll have to forgive me, but this is going to be a two-parter. Because of the hiatus that happened hours before the ceremony.
I've often been accused of making things up. Well, gentle readers, in this case I couldn't have made it up in my most stressed-out dreams.
Not a wink of sleep the night before, imagining all the things that might go wrong.
But never this …
The bride, her flower girl daughter, five bridesmaids, hairdresser and make-up wifie all arrived chez moi at 7.30am.
I was prepared with enough food to feed the 5,000 – butteries, croissants, sausage rolls, quiches, carrot cake, all ready to be washed down with tea, coffee, juice and pink champagne. Fit an excitement.
One of the bridesmaids had laid on dressing gowns marked Team Bride on the back. My quine handed out her gifts to the bridesmaids – diamond stud earrings matching her own. Hugs all round. I was starting to relax and enjoy masellie and nipped ootside for a puff about 8.30am.
When I came back in, hair and make-up in progress, I detected something afoot. My quine took me aside to explain. One of the bridesmaids – actually the most sensible one – fitting her new earrings, had dropped one into the sink, where it disappeared doon the drain.
The peer quine was in tears while the other Team Brides were trying to figure out a way of taking my sink pipes apart! Mummy, daddy, fa'd hiv dreamt this up? I tried to comfort the peer lassie, saying it really didn't matter.
Her hair would cover the ring-less lug. Sod's Law, she was wearing hers swept up.
Fit tae dee? Somebody nip doon to Finnie's for a new pair? The decision was made to phone a plumber. Not just any plumber, but Robbie The Plumber – one of the groom's best mates and a guest at the wedding later. His wife answered the phone saying he was still in bed after a late night with other guests up from London. But he'd be there ASAP. The order went out: DON'T anyone run water in the sink.
I'd visions of lino and floorboards being ripped up. Excavations under my hoosie. Panic, panic, panic. We stood in anxious wait at the front window – curlers droopin', mascara rendering – until our saviour bowled up. Cheers. Kisses.
Never has a tradesman had such a triumphant welcome. Oot with his tools. Disconnects something under my sink and … woo-woo … salvages the tiny earring. Never have a bunch of hyper quines been so happy. He wouldn't take a penny.
Then our knight was on his way. I'll swear he rode off on a white charger. Or was that just the pink champagne in me? So, Robbie, this is my Hero-gram to you. Our Lord of the ear-ring! And the wedding itself? To be continued …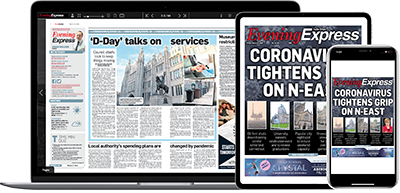 Help support quality local journalism … become a digital subscriber to the Evening Express
For as little as £5.99 a month you can access all of our content, including Premium articles.
Subscribe