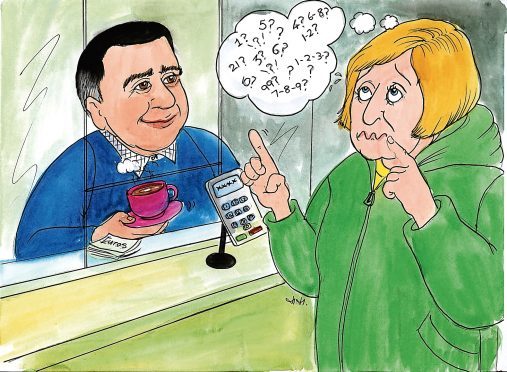 D'ya ever get one of them days? Especially on a day when you deffo don't need one of them days?
Feel craiter that I am, I tend to have quite a lot of them. But yesterday fair turned oot to be one of my boskers. Just a few days before my holiday and loadsa things on the to-do list, starting with the hairdresser back of 9am.
Perfect start, Mo slept through the alarm, wakening with barely enough time to brush my teeth. Mummy, daddy, panic-stations. No time to faff about with buses, booked a taxi and flung on my claes.
This guyo in his 60s arrived, but instead of the usual cheery greeting, he barely gave me a glance.
I started the conversation, saying it looked like rain.
That's usually a signal for drivers to launch into a colourful diatribe aboot the Aiberdeen weather.
This character just said: "Yes."
I said not a word after that.
Nor did he.
A conversation-less cabbie? Losh min, a zombie?
For the fare of £7 I gave a tenner and told him to take 50p for himsellie.
He gave me back £3.
I said again: "Take 50p for yourself."
He mumbled back: "It's all right." Miserable sod.
At the hairdresser, I suddenly took it into my dippy napper to have a major crop.
Big mistake.
Regretted it the moment she started cutting.
I wonder if any Romeos in Sorrento will fancy an al' skinhead wifie?
Doon to John Lewis for last-minute buys, wishing I'd gone to the lavvie at the hairdressers.
Now comes the really embarrassing bit.
Look away now if you're easily offended.
Straight up to the toilets, pretty desperate.
Doon the jeans and pants, on to the pot – disaster.
In my rush, I didn't notice some kindly piddler before me had put down the lid.
So I on to it and went with the flow. Thankfully, I managed to up and open the cludgie before any major tiddling started.
But not before I'd soaked the tops of my knickers and jeans.
Gadsers! Off with the pants and back on the damp-backed troosers. Fit else could possibly ging aglae the day?
On the bussie home, it suddenly occurred to me the wet bittie at the top of my jeans might be soaking into my light-grey, thin nylon anorak.
When I stood up, would my fellow passengers clock I was a wetter?
So I pressed the button and sashayed doon the passage sidieways, like a beached crab.
Finally, into my local Post Office for my euros.
Oot with the bank card, in with my oh-so-familiar numbers.
Big letters, terrifying word: "DECLINED."
I was plottin' by this time.
Did it again. Nope.
All this in front of a growing, fascinated queue, craning their nosey necks to spectate on my performance.
Or had they just clocked a wet patch on my anorak?
The affa nice PO mannie suggested I go aside and collect my thoughts. Good idea.
I tried to calm doon, but numbers were now just a'jigglin' in my bamboozled brain.
He warned: "If it fails again, you'll have to go to an ATM to reset it."
Aye, and crazy craiters will fly.
Ever the optimist, when the shop was empty, I tried again. DE-flaming-CLINED.
Dear reader, I actually slumped on his counter and sighed: "I've just had a very bad day," to which he so gallantly responded: "Would you like a cup of tea?"
No thanks, dear sir. I just want to go home and screeeeeeam! (And put on some dry knickers.)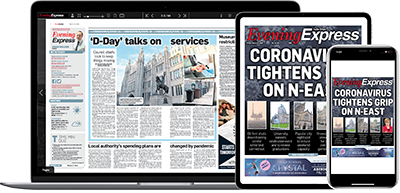 Help support quality local journalism … become a digital subscriber to the Evening Express
For as little as £5.99 a month you can access all of our content, including Premium articles.
Subscribe