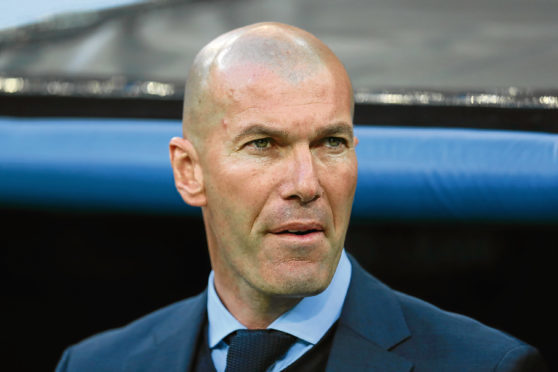 It's Clásico weekend. And the last time this head-on collision between Spain's capital and the centre of Catalunya took place on a football pitch with one of the two teams already La Liga winners was exactly 10 years ago.
The comparisons are, in all but one respect, a bit spooky. Match 36 then and now – May 7 in 2008, May 6 this weekend.
Madrid, under the guidance of their debutant coach Bernd Schuster with a 14-point advantage over third-placed Barça a decade ago. Barça, steered by first-time title winner Ernesto Valverde with a 15-point lead over third-placed Madrid this season.
Madrid had utterly stomped all over the competition that season as Barça – lax, lazy, badly led off the pitch by Frank Rijkaard, whose domestic situation was chaotic, and stumbling on the pitch thanks to Deco and Ronaldinho enjoying a night-life at which Frank Sinatra and his 1950s Lake Tahoe Rat Pack would have blanched – imploded.
Because the title was clinched before the second Clásico of that season, Madrid having won 1-0 thanks to a blindingly good Julio Baptista winner at the Camp Nou pre-Christmas, the demand was that the visitors form a guard of honour (un pasillo in Spanish) for the noble champions.
They did so, Xavi and Puyol leading the Blaugrana up the Santiago Bernabeu steps to the pitch where an ultra-hostile, gleefully-gloating crowd of 79,500 greeted them with piercing whistles and jeers.
Madrid, in fairness, played it like true gents. Raúl, their legendary and legendarily committed, goalscoring captain, ensured it was a firm, quick handshake to both sides of the guard of honour as did the often overly-competitive Sergio Ramos. The behaviour of proper champions.
Barcelona's dignity didn't have extra salt rubbed into it, the gesture looked a bit noble and only a couple of Los Blancos, notably the over-rated Argentinian, Fernando Gago, haughtily walked down the middle of the "guard" without a look to either side, without even a perfunctory handshake.
I say that Barça's raw wound didn't sting from the application of sodium chloride … but that was pre-match.
In the years to follow I would chat to Xavi, Puyol, Eidur Gudjohnsen and Thierry Henry about that night and they all grimaced. Xavi told me it was his "worst night in football", Puyol still has that 1,000-yard stare into the distance when he talks about it, Henry felt "pain".
They were destroyed 4-1 and, as Xavi emphasised to me: "It could have been seven, easily."
So the whole subject has been running and running in Spain over the last few weeks. Will Barça be given a "Pasillo" like they subjected themselves to exactly 10 years ago in Madrid?
Back to that in a second.
This particular Clásico actually has something of a life of its own.
By now this has become probably the biggest match in the world. Yes, it's true, that the Premier League has more reach and La Liga hasn't quite got the number of TV deals around the planet yet that Richard Scudamore and his rights sellers have conjured up.
But there are special things about Spain divided. There's an animosity across the history of Barça-Madrid which is unique, the Latin-language nations around the world are riveted, it's always played in one of two exceptional stadia where the audience is 99% rabidly for the home team and, thus, while the noise isn't adversarial like we prefer it in the UK, it does make for good TV.
Best of all, in my view, the football is almost always exceptional. This match is like a Fort Knox of most of the world's best players.
Tune in and you'll not be disappointed.
This time there's an extra edge of hostility riding on it given the fractured nature of Spain's political and social landscape.
Most of the crowd will chant for independence. Yellow T-shirts, the kind which Spanish cops actually ordered to be removed and then confiscated at the Copa Final against Sevilla in Madrid two weeks ago, will be worn as symbols of protest at conditions of the jailed political leaders for whom Pep Guardiola sported that yellow ribbon on his jersey or shirt.
On the sporting side, while Valverde, Suarez, Messi, Piqué & Co have made everyone kneel in Spain, again, it's Madrid who have Europe in a head-lock. Barça's seventh title out of 10 already in the bag … Madrid threatening to win a third straight Champions League.
Should the Catalans win it will, I assure you, dull the pain of elimination to Roma. Should they lose there will be a distinct lack of sheen (from their own perspective rather than mine) on this curious season – particularly if it's Sergio Ramos instead of Jordan Henderson raising the European Cup in Kiev on the 26th.
Something remarkable is going on right now in these classic matches, 90 minutes that I must admit I absolutely adore.
Barça have won just three of their last 11 Camp Nou Clásicos in all competitions – atrocious. But just for context, Madrid have won just TWO of their last 10 home Liga matches against Barça. Each of these teams loves the guerrilla assault on enemy territory, gets jittery at home in front of a baying, demanding partisan crowd which wants victory at all costs.
So, the guard of honour. Zidane says: "No chance." Some around Madrid resent the fact that when they won the World Club title Barça didn't form a "Pasillo" for them. Barça say: "we weren't in that competition so it's irrelevant to us."
Iniesta, typically, says: "It's not worth all this fuss."
Whether he plays or not, it's Iniesta's last Clásico, his last tilt at Madrid before joining up with guys like Ramos, Dani Carvajal, Isco, Asensio and Lucas to try to win the World Cup with Spain.
His team-mates will be much more focused on winning this for him, and keeping their unbeaten-all-season run going than bullying Madrid into a pre-match ritual.
It's the post-match celebrations, and repercussions, which matter here. Don't miss it.