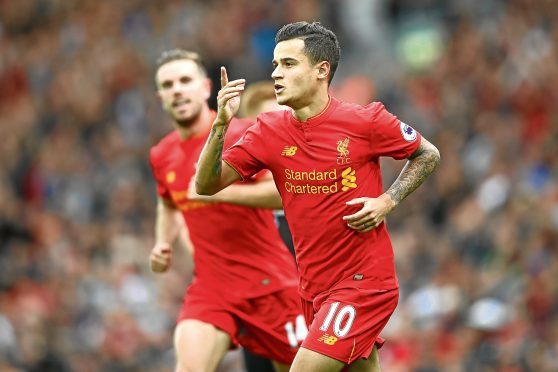 On the face of it, the Coutinho operation should be nice and simple for FC Barcelona.
Allow me, however, to try to convince you it really isn't.
The player wants to join. He's made that clear for many months now.
You can read into his late-summer absences from the Liverpool XI, and his current "muscular problems", that he's using the tricks of the trade to which every major footballer seems prone.
Fancy a move? Not getting your way? Instant muscle pain. Message transmitted.
His sponsors, Nike, committed an awful gaffe by announcing him as a Barça player in an effort to get fans buying personalised Coutinho strips.
"Where the Magic Happens" they titled their announcement that the contracted Liverpool player was "ready to shine at the Camp Nou".
Ineptitude on a grand scale? Or, perhaps, if magic truly was involved, then masters of the dark arts.
However, the base-line information is that the American firm are desperate both to help the midfielder move to their premier brand-advertisers, and to profit from that move.
Neymar is arguably Nike's No1 star and his absence from their No1 brand vehicle, FC Barcelona, needs a remedy as far as they're concerned.
Coutinho, still 25, could be removed from a club where he wears New Balance (rival) gear and installed at the Camp Nou – wearing Nike kit each week.
All of which at a time when, you'd guess, Brazil are at or around leading favourites to win this summer's World Cup – wearing, you guessed it, Nike.
For the firm to see that scenario realised and Coutinho returning as world champion to Barça in August is something of a dream.
Talking of profits, Liverpool are going to do well out of this grubby business.
They bought the Brazilian talent from Inter five years ago for around eight and a half million pounds.
So long as this ends with the 25-year-old finally being allowed to realise his wish to return to the Catalan capital where he played for one season for Espanyol, then the Anfield bean-counters are looking at a profit of at least £120 million.
It's all beginning to add up, right?
Then there was the news La Liga paid Barça a record high sum of 146.2m euros (£130.2m) for their television rights last season.
The Blaugrana were second to Madrid in the title chase, and by the evidence of their performance in Europe, clearly in decline.
Yet they remained box office. They have Messi.
Coincidentally, while that TV sum is still about 40m less than, say, Chelsea earned in the same period, it is at or around the figure which Liverpool look like accepting for Coutinho. Happy days, right?
Finally, there's the question of "need" on Barcelona's behalf.
Their position at the top of La Liga looks awfully convincing – if taken at face value only. My doubts that they could go and win at the Bernabéu pre-Christmas were proven wrong.
But I'm not changing my mind that while the momentum they've gathered, and the solutions Ernesto Valverde has crafted after Neymar left, amount to something impressive – they're still not equipped to dominate Spain and Europe.
In fact, they're punching above their weight.
Real Madrid's folly, for which read Zidane's major tactical errors and Mateo Kovacic's absolute inability to deal with the role he had thrust upon him, made the gap between the two sides look greater than it is.
With a view to playing Chelsea next month and defeating them, in which case potential tests against Manchester City, Bayern, Madrid, PSG, Manchester United etc hove into view, Barcelona remain a team which needs to be much surer on the ball, which needs to retain intelligent possession much more.
Because if they are forced on to the back foot, if they are forced to run and chase, their weaknesses are clear.
So while their absolute need for a midfielder who can replicate the kind of football-intelligent, technically-superb contributions which Andrés Iniesta has been making for Barça these last 15 years is evident, even if Coutinho were to join now he wouldn't be eligible to help in the push to win the Champions League.
And while the Coutinho sudoku must look like a no-brainer to those who just live for the fantasy-football solution of "dream pairings", the complexities actually add up.
For Coutinho, I'd argue, there must be the attraction of having one last shot at winning the Champions League with Liverpool. Frankly, they should eliminate Porto and, once done, they are in the quarter-finals.
Word is, however, that the Brazilian (and particularly his representatives) don't want to see him risk injury in even one more game for Liverpool when that type of set-back could jeopardise the entire deal.
As for Barcelona, this isn't business in isolation.
If they buy this identikit player, who looks a custom-made fit with Busquets, Iniesta, Messi, Paulinho, Suarez and the ingenue that is Ousmane Dembélé, it will certainly cost them a new club record.
They aspire to add Antoine Griezmann in the summer, a move for which they've already been discovered "tapping" the player up. That would mean that capturing Dembélé, Coutinho and the French striker would cost them approximately 340m euros (£303m) all-in. For three players.
Right now they can't foot that bill – their salary total is way too high, the squad is bulging with surplus, they keenly require to sell (and sell well).
And what garners very little coverage here in Spain is the fact that Barcelona's much-vaunted re-modelling of the Camp Nou (500m euros (£445m) plus) has already been postponed and can't be funded if the football operation keeps on needing to spend like this.
Logic dictates that Barcelona try to negotiate Coutinho for the summer, rather than now, and try brutally hard to reduce the cost by putting surplus Camp Nou players in the deal.
Logic? Logic? That has no place here, it seems.
In fact, on the basis that the intelligent move is for summertime, the bookies are probably taking it as a done deal that it all gets done this month.