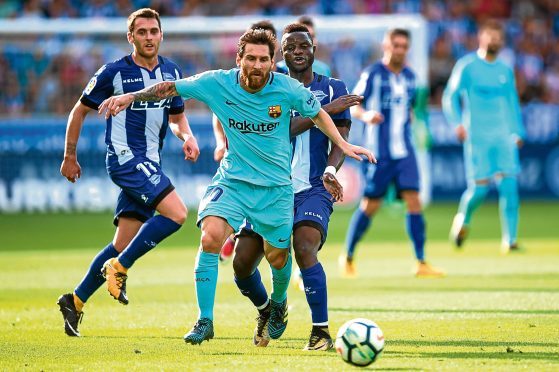 I think I know you all well enough to state that you'll be glued to the Catalan "derby" tomorrow night at the Camp Nou.
Barça welcome Espanyol for what has become an increasingly mean-spirited and temperamental city-splitting match in recent seasons.
Sadly, these types of matches in Spain aren't like the UK where there's a guarantee that a healthy chunk of tickets will not only be set aside for away fans – but they'll attend in number.
However, the atmosphere can be set in different ways.
Last year it got feisty. Luis Enrique, who has been succeeded at Barcelona by Ernesto Valverde, really didn't get on with the Espanyol boss Quique Sanchez Flores.
They'd been together at Real Madrid as fellow midfielders or full-backs and, although once friends, fell out irrevocably.
There's a tradition here of the two Catalan club coaches trying to lower the temperature ahead of the derby by posing for a "friendly" joint picture the day before the match.
It's a small gesture, but it suggests: 'this isn't a war'.
Not Lucho and Quique. Neither of them had any interest in posing with the other – each of them was doing their hair or cutting the grass or shopping with the wife. Whatever.
Espanyol, during their 4-1 defeat, tried to muscle and snarl their way to a result, which only served to inspire Leo Messi and Luis Suárez to one of their best performances of the season.
When the match ended the Espanyol coach, who gave the briefest of cold hand-touches – you wouldn't call it a shake– to his opposite number, trotted out on to the pitch and hugged Messi.
It looked like they were having a slow dance.
When he spoke to us post-match he explained: "My son's a big fan of Leo's and he often asks me to get him one of his shirts. I also congratulated Leo on his humility – whenever he's kicked he just gets on with the game."
For his words, and deeds, Quique was hammered by the Espanyol supporters and media and, within a day, felt forced to apologize publicly.
Football is football wherever you go. City rivalry rules over gentlemanly behavior. Right?