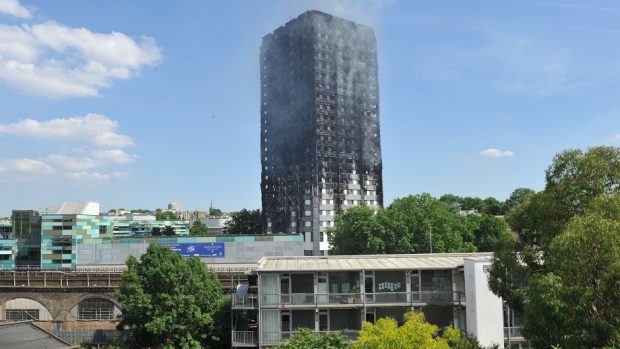 How high can a firefighter's ladder reach?
It seems such an obvious question but one that few thought of asking … until the horror of the Grenfell Tower tragedy in London.
Local authorities up and down the country have been doing their best to reassure residents of tower blocks they would be safe in the event of a blaze.
Issues like sprinkler systems, improved fire exits and greater protection are all now under the microscope for high-rise living.
Residents at Grampian Court in the Torry area of Aberdeen are among those who are not fully satisfied that the cladding on their building is 100% safe.
The images are branded on their minds of that awful night when the building in North Kensington burst into flames killing what could end up being hundreds of people.
Then we come to the not insignificant matter of a fireman's ladder which in Aberdeen, we learn, would be able to reach only the ninth floor.
That's little comfort for those in floors 10 to 13 -the top one at Grampian Court.
Apparently, the advice from experts is to remain in your own flat if there's a fire in your building.
No surprise, given what we learned from Grenfell, that many of those living in multi-storey facilities are unconvinced by such an instruction.
Despite their efforts to calm nerves, the fire and rescue service, which does a wonderful job often in the most dangerous of situations, will be every bit as concerned as those who occupy tower blocks.
Defective cladding is clearly not the only matter which should be the focus of an inquiry into Grenfell Tower.
The real answer to this problem, of course, is to look to a future housing programme where people are housed closer to the ground.
---
Will Dons bean counters be left feeling blue
The mini-furore over Aberdeen FC's new away kit – of similar hue to the main strip worn by the team their fans love to hate, Rangers – will pass.
That will not be the principal concern of the Dons' bean counters, however, and I suspect that in the not-to-distant future some commercial bod down Pittodrie way will ask: "I wonder why those blue strips aren't flying off the shelves?"
---
By gum it's great to see another clean-up for street
Aberdeen residents can't be other than pleased that the city's once beloved Union Street is set for a clean-up as the chewing-gum removal machines are prepared for action.
It's the right move,
of course, but can we depend on the morons who drop their gum and other litter without a thought to change their ways and keep the town clean?
Or will we be seeing another expensive clean-up in a year or two?
---
Tackling poverty is a must in our country
Almost 350 people – many of them children – used one food bank in Aberdeen between April 1 and May 23 this year.
We can multiply those figures scores of times to give us an idea how many others throughout Scotland are having to resort to asking for these handouts.
This is 21st century Scotland.
A first-world country with a third-world underbelly.
Shouldn't the Scottish Government be more focused on such burning issues rather than their futile independence-after-Brexit call?