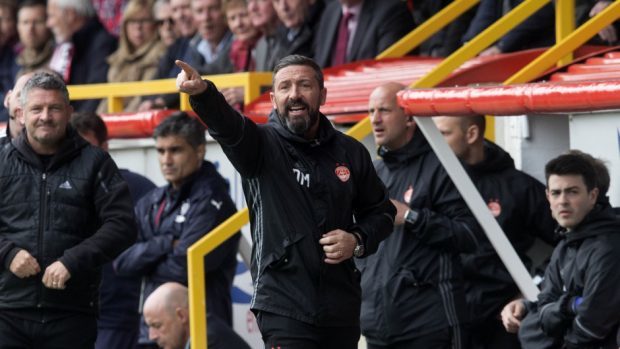 The speed at which the world of football operates means from when these words were written to the moment they appear on the page, Derek McInnes could be the ex-Aberdeen manager.
It's a here-today-gone-tomorrow environment which prompts enormous levels of speculation, albeit much based on inside information.
There is, too, an astonishing amount of naivety surrounding the movement of managers and players.
Chris Maguire should not have left the Dons for Derby County, the misguided told us in 2011. Ryan Fraser would have been better remaining at Pittodrie rather than taking a chance with the then
League One outfit Bournemouth, the righteous ones stated. And now, it is about how foolish Derek McInnes would be were he to accept an offer to take over as boss of Sunderland.
Maguire did well for himself at Derby, Sheffield Wednesday and now Oxford United, expanding both his career and his bank account, while Fraser, who'll play for his country against England at the weekend, is probably pocketing in the region of £25,000 a week with the Cherries in the Premier League and has a transfer rating of £8 million.
And if the Dons didn't insert a sell-on clause, especially as they're asking fans to chip-in for future signings, then somebody has fallen down on the job.
It is also astonishing that there are those who believe McInnes should turn his back on a salary of perhaps £800,000 in order to remain at a club where he has achieved possibly all he can and which attracts average home crowds of 12,400, despite reaching two cup finals and finishing runners-up in the Premiership.
If he continues in that vein, they say, a bigger club than Sunderland will come along. It's good to have clairvoyants in your fan base.
---
What happened to the would-be independents?
As Aberdeen City Council's rainbow coalition ponders its next meaningful announcement now that it begins to settle into administration, we wonder what happened to the would-be independents we thought were being mustered for the local authority elections by the anti-Muse Development campaigner Lorna McHattie.
They arrived with a whimper before disappearing over the horizon without so much as a cheerio.
Is there an explanation why the revolution failed to get off the ground?
---
Prospect of change after General Election results
The results of today's General Election offers the prospect of so much potential change, all of which will keep me from my slumber tonight.
Will Mrs May, for one reason or another, regret calling it? Can Jeremy Corbyn confound his critics? Will the Nats lose up to 10 seats but refuse to back-track from their claim of independence by 2025?
Are the Liberal Democrats likely to continue their slide into potential oblivion?
I'll go with four "yes" answers, all guesses.