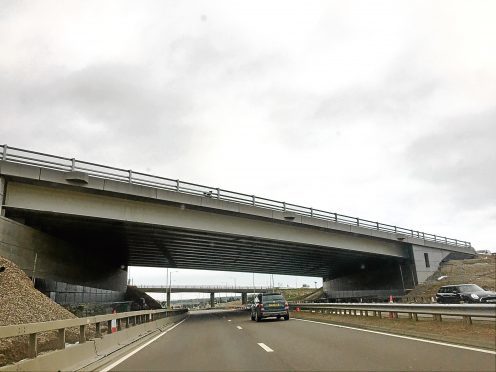 A new bridge is set to partially open to traffic this week.
Transport bosses have announced the Charleston Bridge's westbound carriageway will open in the coming days.
Motorists heading north from the A956 Wellington Road will be able to use the section of road which is part of the Aberdeen Western Peripheral Route/Balmedie to Tipperty project.
It has yet to be confirmed which day the section of road will be accessible, with the  announcement due nearer the time.
Traffic going north will be able to use the westbound carriageway across the bridge to access the new northbound merge and join the A90.
Some of the permanent traffic signals on the new grade-separated junction will also come into operation.
Traffic travelling west from Wellington Road to head north on the A90 and traffic travelling along the A90 northbound diverge, will be controlled by traffic signals at Charleston Bridge.
A Transport Scotland spokesman said: "This will be welcome news for road users heading north from Wellington Road at Charleston as they will no longer be diverted via the Findon/Marywell junction.
"Instead, they will join the new bridge from Wellington Road, follow the carriageway to the new northbound merge and join the A90 northbound.
"This new section of Charleston Junction will be controlled by traffic signals to ensure road users can safely join and leave the A90."
In the coming weeks, works at the junction will focus on improvements which are under way on Wellington Road and some minor works on the A90 carriageway.
Meanwhile, temporary traffic signals and convoy working are expected to be in place on a stretch of road at the A947 at Goval during quieter periods this weekend, from tomorrow at 8pm until 6am on Monday.
The measure will be in place for safety reasons while surfacing work, which will connect the new A947 with the existing A947, is carried out.
Signs will be in place to advise road users when the convoy restriction is in operation.