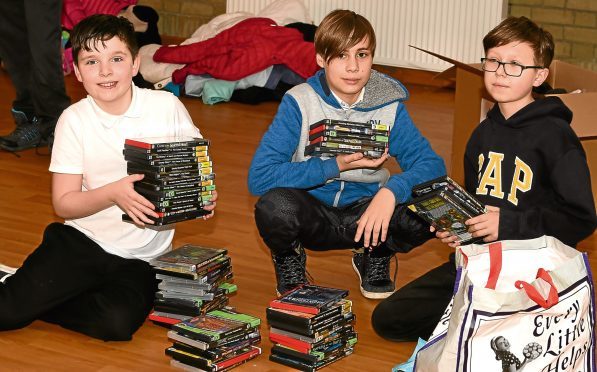 Aberdeen primary pupils have helped a charity sort donations bound for a school in Africa.
Tillydrone Vision, an Aberdeen charity and community project based in Tillydrone's Hayton Road, has now filled a shipping container of goods ranging from gardening tools to stationery, to be gifted to Kamuli Township Primary School in Uganda.
Now pupils from Riverbank Primary School are lending a hand to sort through the donations and compile an inventory of all donated items.
Former deputy head teacher Linda MacLeod is set to join the 15-strong group heading to Uganda in April next year.
She said: "I'm excited to travel there. The children love hearing about Uganda, they write letters to the school children and we get letters back. We've got some more going in the shipping container.
"My colleagues who went last year taught the young girls at the school how to deal with puberty and I'll either be teaching or doing manual labour when I go out. I'm looking forward to meeting the faces we've been seeing in photographs."
Riverbank Primary previously raised half of the £5,000 needed to provide the village of Kamuli with tools to bore a hole for a well. Tillydrone Vision, led by secretary Bill Mitchell, has made nine trips to Uganda since the group gained Scottish charity status in 2012.
He said: "Now we have pretty much filled the container, we just need to sort out the items into categories and the necessary paperwork. We've just announced as well that we will turn the container into part of a school building – we'll just need to raise more money to adapt it with windows and a door.
"It's great to get help from the kids of Riverbank, getting young children involved and teaching them about how other children in the world live. Hopefully when they're older they could travel with us."
Tillydrone Vision hopes to ship the container at the end of January.