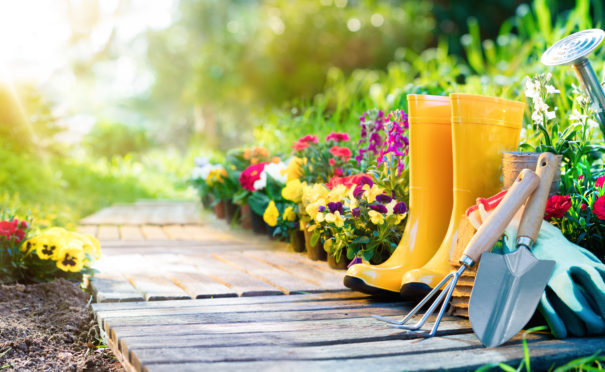 North-east pupils have flexed their green fingers in a competition that will see their garden designs bloom.
Environmental charity Keep Scotland Beautiful has announced that pupils from Mill O' Forest Primary School in Stonehaven, Macduff Primary School and Kemnay Academy have been selected as winners in a national competition aimed at encouraging children's understanding of food and the environment.
It challenged youngsters from across Scotland to design a "One Planet Picnic Pocket Garden" – a design that reflects the 2018 theme of the UN Sustainable Development Goals.
The design had to include plants that can be eaten and attract biodiversity, and reusing materials which would otherwise be thrown away.
Now, pupils from the three schools will bring their creations to life at the Gardening Scotland Exhibition in Edinburgh from June 1 to 3.
The design created by Mill O' Forest pupils features ornaments made with recycled materials, a wild garden offering chives and garlic and a water feature.
The school runs a group called the global gang in which pupils, who are elected and interviewed for their position, ensure the school is doing all they can to help the environment.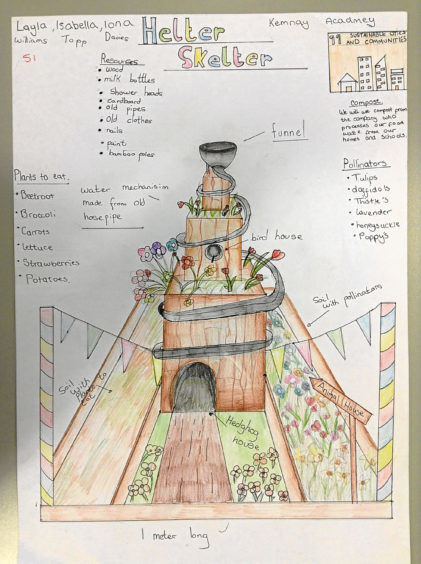 Deputy head of Mill O'Forest Christina Hardie explained that this was the school's second competition win.
She said: "Our school has a reputation for being very environmentally friendly, and we take it very seriously.
"The seven pupils, aged between six and 11, in the group came up with the winning design after being inspired by our lessons on the importance of water.
"We have been learning about how far people in Africa have to walk for clean water and so the pupils were keen to incorporate African art in the design and the 'water for all' message."
The garden gang will now focus on building the model themselves as a trial before recreating their design at the Gardening Scotland Exhibition in June.
Kemnay pupils named their creation Helter Skelter – after the spiral design.
It features a bird house, shelter for hedgehogs, a food garden which includes strawberries and broccoli and pollinating plants such as honeysuckle, lavender and thistles.
Primary teacher at Macduff Aileen Clark explained that her pupils had been inspired by their work on sustainable and local food produce.
She said: "We are very excited but we have a lot of work ahead – it's growing season."
Councillor Dennis Robertson, who represents Stonehaven and Lower Deeside, found the pupils' dedication to the environment "inspiring".
He said: "We are very fortunate in Aberdeenshire to have so many schools dedicated to being environmentally friendly. The design is inspiring and it's always good to reward children for their work.
"It's wonderful to allow children to explain their own designs and let them explain their work with such enthusiasm that only children have."
As part of the Eco-Schools programme, the competition aims to encourage children's awareness, skills and understanding of food and the environment, in a fun, hands-on and informal manner.
The winning schools were selected by representatives from Keep Scotland Beautiful, the Garden for Life Forum, Gardening Scotland and SCVO which leads Scotland's Sustainable Development Goals Network.
The pupils will travel to the Gardening Scotland Exhibition at the Royal Highland Showground in Ingliston where the final three winners will be selected in the following categories: Best Garden for Wildlife, Best Garden for the One Plant Picnic theme and Best Garden for Global Goals theme. Eve Keepax, food and environment officer at Keep Scotland Beautiful, said: "This competition is a practical, yet fun, way to learn about growing food sustainably, and why it is important to them. We look forward to working with the pupils from Mill O' Forest Primary School, Macduff Primary School and Kemnay Academy and seeing their designs create The Garden for Life."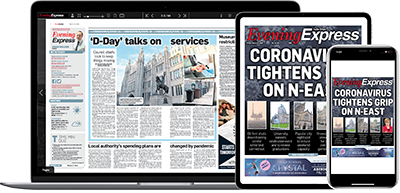 Help support quality local journalism … become a digital subscriber to the Evening Express
For as little as £5.99 a month you can access all of our content, including Premium articles.
Subscribe