Video: Young seal pup Potter safe after north-east beach rescue
An underweight seal pup found on a north-east beach has been rescued.
The youngster was found underfed at Stonehaven beach on Sunday and taken into the care of an animal rescue centre.
The animal, which has since been named Potter, is being cared for at the Fishcroft rescue centre near Alloa.
The seal, which was thought to be between three and four weeks old, was found by Jacqueline Wake-Young, who stayed at the scene for around six hours on Sunday.
And yesterday, just days after Potter was rescued, another pup was spotted on the beach without any sign of its mum – and was monitored by experts before it returned to the sea at 9.30am today.
A team from the British Divers Marine Life Rescue (BDMLR) was involved in the rescue of Potter, which was found to weigh 12.5kg when it should weigh 22kg.
Jacqueline also discovered the other seal pup yesterday – and it is now being watched by the BDMLR.
She said: "The team from the BDMLR are currently keeping an eye on the pup at the beach as they feel the mum may come back for it for the time being.
"On Sunday, I initially phoned the police to let them know and then contacted the SSPCA, who in turn notified the BDMLR.
"From the pictures I sent them they said it was quite malnourished and looked like it hadn't been fed by its mother.
"It was quite a dramatic rescue in the end as the man came up with all the bite proof clothing as the seals have quite the bite."
Residents have since been warned they should leave seal pups alone.
Scottish SPCA wildlife centre manager Colin Seddon said: "We received a seal pup at our wildlife centre on Sunday which had been found on Stonehaven beach.
"The seal has been named Potter and will receive care and monitoring at our centre. Once he is fully recovered he will be released back into the wild.
"If you spot a pup with a white coat on a public beach, please contact our animal helpline as chances are it is in trouble and needs our attention.
"Grey seal pups which no longer have a white coat may still need our assistance if they are on a public beach and at risk, or have visible signs of injury such as bleeding, crusty or damaged eyes, discharge from the nose or coughing.
"The public should contact our animal helpline on 03000 999 999.
"If the seal pup looks and acts healthy it should be left alone."
A spokeswoman for the BDMLR said: "There has been a number of incidents recently and we think the recent weather has caused the seal pups to wash up on the beach."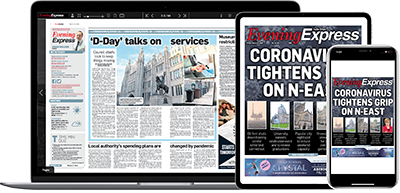 Help support quality local journalism … become a digital subscriber to the Evening Express
For as little as £5.99 a month you can access all of our content, including Premium articles.
Subscribe