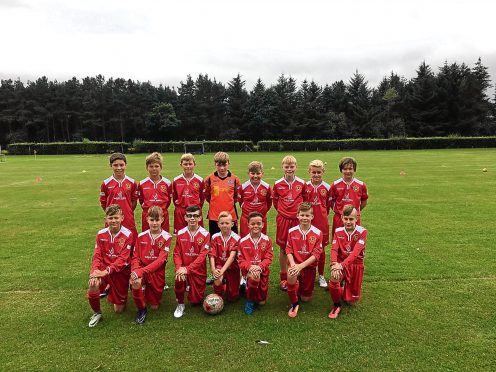 An under-13s football team is a step closer to playing in a competition overseas thanks to a cash giveaway.
The Banks O' Dee Albion 11-a-side team took home £500 after entering the Evening Express CommunitEE Chest last year.
Parent Jill Cocker, whose son Jake, 12, is in the team, said: "We were so pleased to win last year; the whole process was easy.
"I sent an e-mail round to the team, the parents, family and friends and everyone rallied round to collect the tokens. We used some of the money to get the kids ready for the season starting in October, supplying new tracksuits and kit, so they're all geared up.
"The rest of the money is going towards a communal fund we have, raising money for the team to go abroad to Holland to take part in a competition next year.
"We've been busy fundraising for the trip for a while, doing sponsored walks, horseriding and bagpacking. We're doing all we can."
The Under 13s hope to join in The Easter Open International Youth Tournament, played in North-east Brabant, Holland.
They meet twice a week for practice, then play a match every Sunday.
Jill said: "I have a nine-year-old too who is also football mad, but I like football so I don't mind.
"Sport is really important to my kids. It gives them a chance to be active and keeps them social. The team are a really close bunch.
"We have submitted an application form this year too, and everyone has already been e-mailed. It's great that everyone gets on board."
Coach Phil Boyce added: "The money goes to help with the kids' development in football, which is so important."
Banks O'Dee Albion is one of the most successful boys clubs in Scotland, having won the Scottish Cup eight times.
To be in with the chance of landing a share of this year's £15,000 CommunitEE Chest Fund, all not-for-profit organisations have to do is fill in the registration form and work together to collect tokens which will be printed in the Evening Express from next week.
The groups with the most tokens in each category will walk away with a cash amount of between £500 and £5,000, depending on how many members are in the group.
Groups with 30 members or fewer have the chance to land £500, groups with between 31 and 60 members could take home £1,000 and groups with more than 61 members are in with the chance of bagging themselves £5,000.