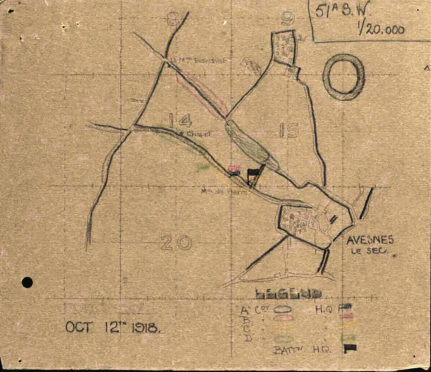 An Aberdeen teenager's determination to follow in his soldier father's footsteps saw him enlist at the age of just 15 years old.
The story of would-be boy soldier Angus McLeod has been revealed 100 years on from his death on the battlefield in France through research carried out by his great-nephew Ken McLeod.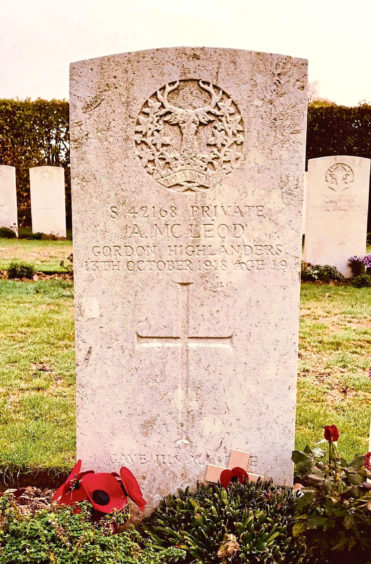 Angus was the third born of 10 children, living with his parents Jane and Alexander McLeod at 23 Canal Road in Aberdeen.
Alexander was a Gordon Highlander who had seen action from 1885 in India, the West Indies and the Boer War, and was also called up to fight in the First World War.
A tenacious young Angus, hoping to live up to his father's military career, made his first attempt to join the 17th Royal Scots on April 2 1915 at the tender age of 15 years and nine months – claiming to be 19 years and 60 days old. Recruitment in the First World War only required those enlisting to provide an age, not a date of birth.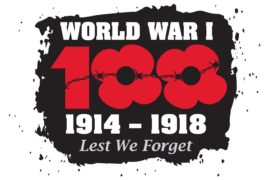 A slight lad, standing at 5ft 2in with an expanded chest of 33.5 inches, Angus's true age was soon discovered and he was discharged 27 days later.
Undeterred, the following month he signed up to the 7th Gordon Highlanders on May 27.
His deception was slightly more successful and he lasted for 127 days until September 30 1915 before being sent home.
His third and final attempt to enlist as an underage soldier was on May 27 1916 when he joined the 3rd Gordon Highlanders, this time giving his age as 18 years and 17 days. Angus's true age – 16 years and eight months – was discovered 18 days later and he was discharged for a "misstatement as to age on enlistment".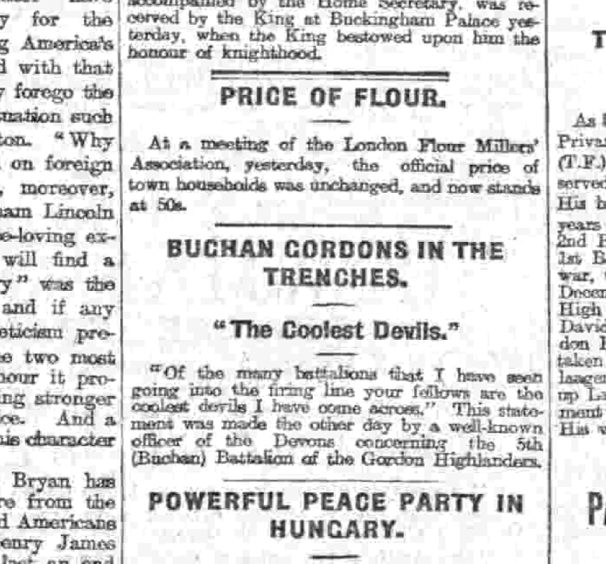 Ken, who lives in Beverley, Yorkshire, but is extensively researching the military history of his Aberdonian ancestors, said: "It is well documented that many young men and boys under the age of 18 enlisted and fought during this conflict, and it is surprising that Angus was caught out on three occasions. I can only assume that his father or mother informed the regiments of Angus's age knowing of the real horrors of war from experiences of my great-grandfather Alexander, who was at that time serving in France."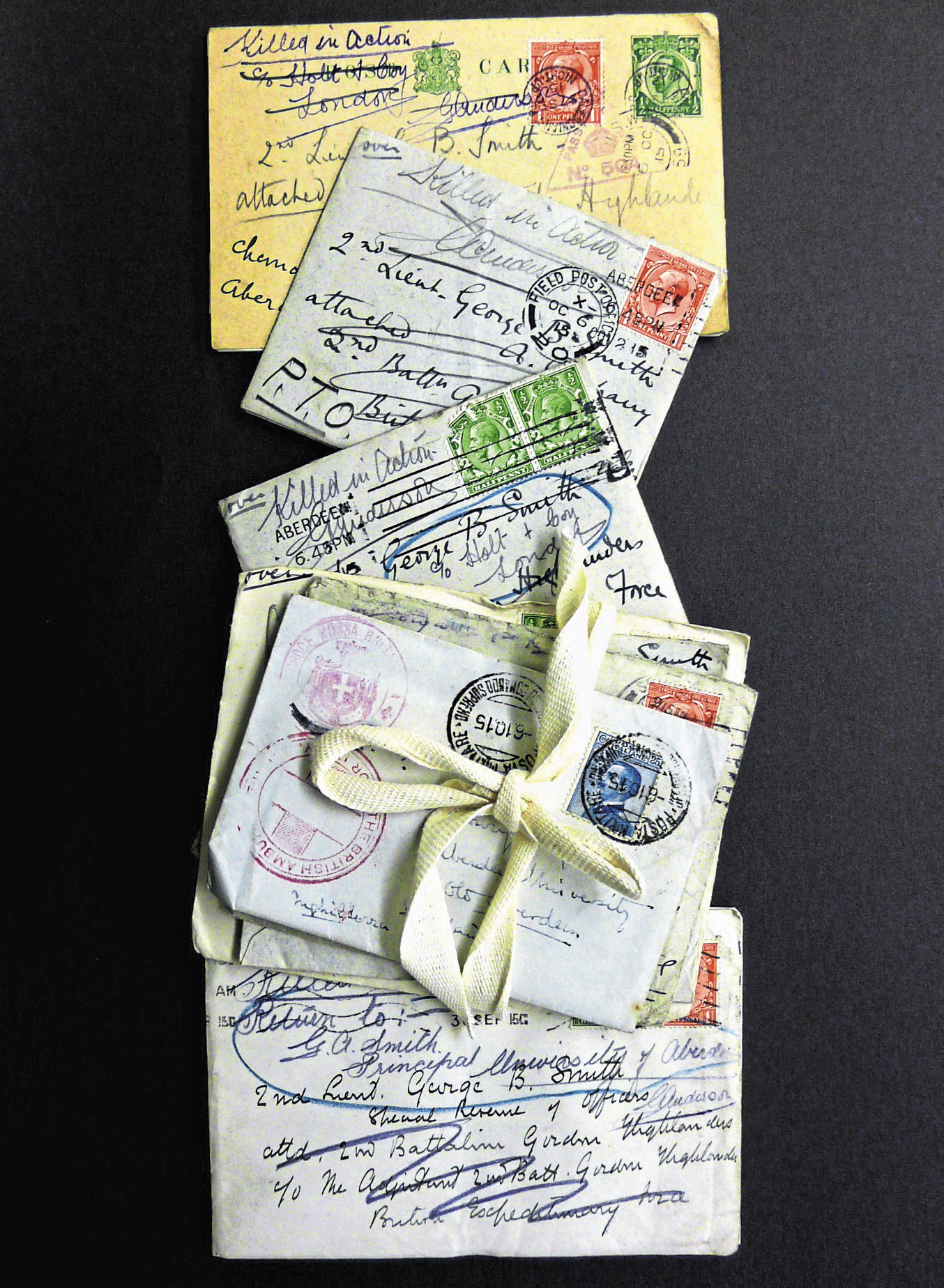 Angus finally reached the minimum recruitment age of 18 and successfully enlisted with the 42nd Training Reserve Battalion Gordon Highlanders on October 1 1917. He was in training until he was posted to the 51st Division Gordon Highlanders and, on May 11 1918, he joined the 1/6th Gordons as Private McLeod.
Upon finally making it to France on May 18 with 142 other men, he was sent straight to the front near Bailleul where he went on to see action in several battles. Using original war diaries, which were kept by the battalion during the conflict, Ken has been able to piece together his great-uncle's movements, including an encounter with his father on the battlefield.
The fascinating research shows a more domesticated side to life at the front. Angus and his fellow recruits rested and cleaned up, attended church services and undertook training in operating Lewis Guns, before a march to Bray to see a rifle range demonstration and musketry practice.
On May 23 the new recruits relieved the 4th Battalion Gordons from the front line, taking up their positions in Bow Trench and Tired Alley at Bailleul in north-east France near the Belgian border.
Days later they experienced their first shelling and, in the months that followed, the diary shows a mixture of warfare and life behind the lines as the battalion moved around, along with a daily weather report.
There was even some light relief on September 28 when the 6th Battalion Gordons played the Royal Berkshire Regiment at football – winning 2-0.
In a twist of fate, Ken's research shows Angus met his beloved father just two days before he died while his company moved towards Avesnes-le-Sec from Bourloin.
Ken said: "It was during this movement that Angus and his father met up together. This could have been a chance meeting or possibly Alexander, who at this time was a Sergeant with the Royal Scots Fusiliers Labour Corps, may have also been advancing in support of various Battalions.
"This meeting was to be the last time that Alexander saw his son, and this memory must have remained with him for the rest of his life and been hard to live with."
"C" Company headquarters were set up near a mill at Avesnes-le-Sec with Angus and his comrades taking up positions in a support line in a north-westernly direction of the village. The area offered minimal cover and on the morning of October 13, artillery bombed an area ahead of the frontline hoping to reach woods and a railway. Met with machine gun fire, the battalion was forced to retire, however the enemy fire was so severe the retreat wasn't complete until noon. The Gordons and Seaforths both suffered heavy fire with Angus being one of several killed.
At just 19 years old, he was buried where he fell and is remembered at the cemetery at Avesnes-le-Sec with the epitaph chosen by his parents: "Gave All His Life".
Ken is appealing to anyone in the north-east who may have a photo of his great-uncle Angus McLeod to get in touch to help him complete his research. If you can help, email: ken@kjmcleod.com
For more information, visit: www.facebook.com/AngusMcLeodS42168