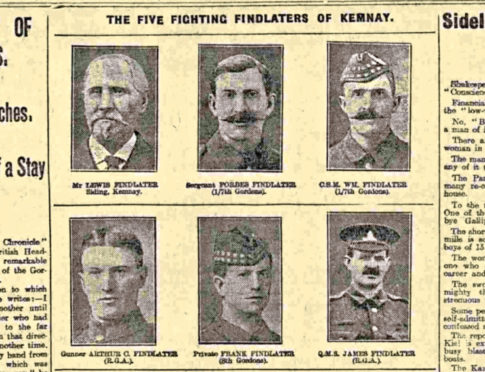 Of all the north-east families that signed up, few were better known than the Findlaters.
Hailed in the Evening Express in 1916 as "The Five Fighting Findlaters of Kemnay", all five brothers – Forbes, Francis, William, James and Arthur – signed up to fight in the war.
Only two of them – James and Arthur – survived.
Their father, Lewis Findlater, had volunteered with the Gordon Highlanders before the war.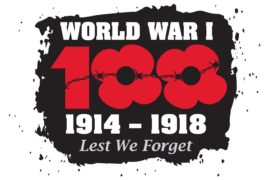 In a story on January 17 1916 the Evening Express said: "Mr Lewis Findlater, Siding, Kemnay, and his five sons who are with the colours.
"Mr Findlater was an enthusiastic volunteer and is the possessor of a long-service medal and certificate stating that he served in the Volunteer Force from 1871 to 1892 and was 21 times returned as efficient, and twice as a marksman.
"He is now a special constable. Three of the sons are serving in the Gordons and two are in the Royal Garrison Artillery."
Forbes Findlater was a Sergeant Major with the Gordon Highlanders and was killed in France in July 1916 at the Somme. He was 42.
Lance Corporal Francis Findlater lost his life aged 19, just one week before Forbes, on June 28.
Gordon Highlanders curator Ruth Duncan said: "Francis is commemorated on the Loos memorial rather than buried in a cemetery, which suggests he has no known grave."
The circumstances surrounding the death of the third son, William, aged 37, are unclear as he is buried in Kemnay parish cemetery instead of France.
Ruth said: "He died on the 23rd August 1918 and as he is buried here, it suggests he came home.
"It's odd that he died at home so that would suggest that he was very badly wounded and was sent home."
James and Arthur, who survived the war, both fought in the Royal Garrison Artillery.
Ruth said: "With being a big family from Kemnay, they would have been quite well-known and their story is sadly all too common for this time."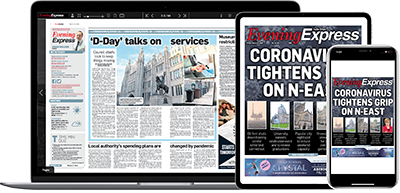 Help support quality local journalism … become a digital subscriber to the Evening Express
For as little as £5.99 a month you can access all of our content, including Premium articles.
Subscribe