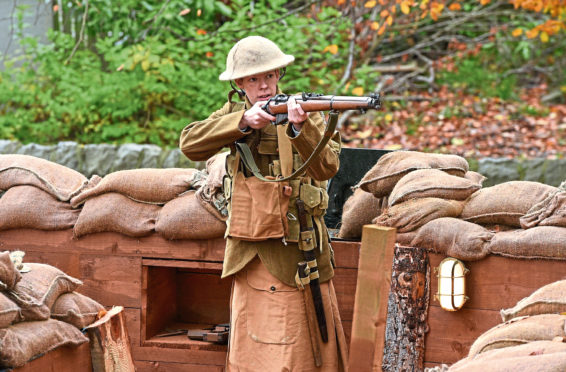 An Aberdeen museum has commemorated the centenary of the end of the First World War by recreating a part of what soldiers endured.
The Gordon Highlanders Museum in Aberdeen has completed work on its authentic First World War-era trench.
The ambitious project has given school pupils a taste of what life was like for soldiers at the Western Front.
Artwork, poetry and letters from the pupils from Westpark School, Newtonhill Primary School and Turriff Academy were on display, and local actor Jack Elvey performed a monologue as a soldier writing a letter home.
The schools have been working closely with the museum to teach pupils the history of the war.
Westpark School pupil Darius Turcu-Georgescu, 10, said: "We have been learning about the soldiers and we learned a lot about trenches and all the things that happened in the First World War.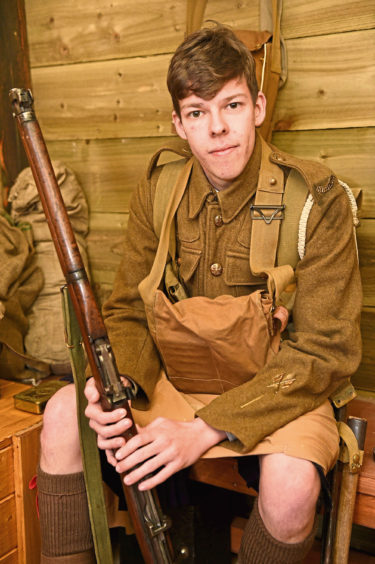 "I wrote a lot of letters. One was by Harry Patch – he survived the war.
"I wrote about the things that were happening in the trenches and at the war.
"I have learned a lot of things with this project.
"When I started learning about it, I was shocked by all the things that had happened.
"The Gordon Highlanders museum trench shows us all the details, which I love."
Bryan Snelling, chief executive at the museum, said he hopes the trench will help secure the memory and legacy of the war.
He said: "As a museum, we have a responsibility to tell the story of the past and what the Gordon Highlanders experienced.
"The trench will help us to do that in an immersive way as well as from the perspective of the past.
"It's our way of making sure that people continue to remember the war after the end of the centenary.
"It's important that museums try and set an example in commemoration."
Councillor John Cooke, who represents the Hazlehead, Queen's Cross and Countesswells area of the city, said: "The trench exhibition is something that will be there in the long-term.
"It's not something that is just for the 100th anniversary of the end of the war.
"It makes for a fantastic visitor experience and will also secure the future of the museum.
"It also makes an excellent teaching tool and helps to bring even a small part of the reality of the trenches to life for school pupils.
"For visitors and schools alike, this exhibition will be a fantastic benefit for the future."