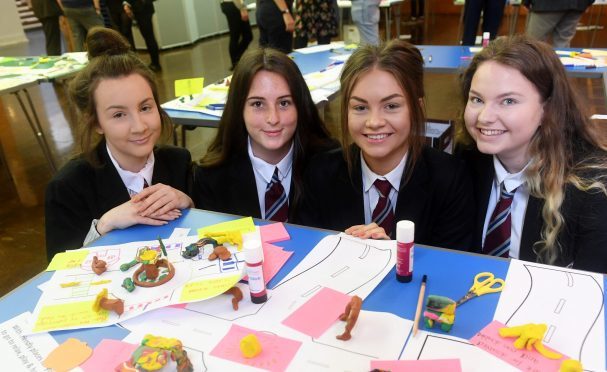 Pupils from city centre schools have gathered together to dream up ways of making Aberdeen a safe and welcoming place for children.
More than 120 youngsters from Harlaw Academy and Aberdeen Grammar, as well as feeder primary schools, met to talk about what ideas they would like to see implemented in the City Centre Masterplan.
The pupils put forward their ideas for bridges, skateparks, sculptures in the middle of roundabouts and anything they thought would make the city a safe and welcoming place.
During the session the youngsters noted down their ideas and also made plasticine models, which will all be gathered by Aberdeen City Council and looked at when designing the masterplan.
Councillor John Wheeler, convener of the Education and Children's Services Committee, said: "The workshop isn't a paper exercise. The council is implementing the Aberdeen City Centre Masterplan which gives us all an opportunity to transform our city centre. It's important to get this right for everyone and the input of the city's youngsters continues to be invaluable in progressing the masterplan."
The workshop was based on themes in the United Nations Convention on the Rights of the Child, surrounding culture, inclusiveness, friendliness and engagement in sports.
During the workshop secondary pupils acted as facilitators.
Emily Milne, 17, from Harlaw, said: "It has been really interesting to see the views of some of the younger children. I couldn't believe how creative some of them were. At first they were a bit shy but they became more confident and managed to put some great ideas across."
Kirsty Reid, 16, another facilitator from Harlaw Academy, said: "It has been really good to see everyone getting involved in the workshop. Some of the younger kids were coming up with ideas around disabled access for people which was something I did not expect.
"This workshop gave the kids the chance to engage in the city and also gave them the chance to offer what they want to see in the city in the future."
The masterplan will help support the council's effort to become a Unicef child-friendly city.