Our aerial video and images show that vast sections of the road are now free of workers and appear to be ready to open.
The Evening Express revealed last month that much of the route between Stonehaven and Craibstone was complete and ready to welcome motorists – however sections of the route were damaged by a public event to celebrate its near completion.
Parts of the £745 million route near Milltimber were left in need of repair following the Go North East event.
Issues included cleaning up oil spills and replacing tarmac which was damaged beyond repair.
Large swathes of the stretch were relaid and repainted in the weeks following Go North East, although transport bosses maintained the work was "minor" in nature and would not affect the overall timescale for the project.
But a project source told The Evening Express last month that the road could have opened in August but didn't in order to accommodate the flagship event.
The source said: "Some of the damage was caused by oil spills at the event, we aren't sure what caused some of the other damage.
"Workers are having to plane out the new surface and replace it in several places – doing roadworks on a new road before it's opened.
"It is going to look like a patchwork quilt."
The new aerial images of the Milltimber-Stonehaven stretch clearly show all the areas where tarmac was relaid.
Transport Scotland previously declined to comment on the exact nature of the damage, how widespread it was or where it had taken place, adding: "Other than minor wear and tear incidents, which are not unexpected and easily rectified, no damage has been experienced as a result of the community event."
At its peak the project had 2,500 workers but this has now been stripped back to just a few hundred with vast parts of the road finished.
The contractor responsible for the work has even vacated its main site offices at Stonehaven and sold the temporary structures on as workers and management transfer on to other projects.
North-east Labour MSP Lewis Macdonald said: "It is over 15 years since the decision to build the Western Peripheral Route and drivers are ever more impatient to get the chance to use the new road.
"While clearly there is some way to go until the new Don Bridge is ready, the rest of the AWPR seems to be good to go.
"It is time for Transport Scotland to tell us when they will open the road between Stonehaven and Craibstone, and how much longer we will have to wait for the last vital piece of the jigsaw to be put in place."
Video: True extent of work to be done on Aberdeen bypass bridge laid bare as we takes to skies
---
---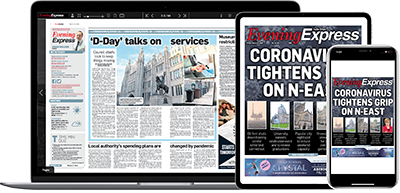 Help support quality local journalism … become a digital subscriber to the Evening Express
For as little as £5.99 a month you can access all of our content, including Premium articles.
Subscribe