One of the world's largest floating cranes has been seen towering off the coast of Aberdeen as work got under way on an offshore wind farm.
Nearly a dozen turbines – which have attracted the ire of US President Donald Trump due to their proximity to his Menie golf course – will be erected off the bay of Aberdeen to power the wind farm.
A series of 11 250ft tall "suction bucket" anchors, which secure the turbines to the seabed, are being installed by Asian Hercules III, one of the world's largest floating cranes.
Vattenfall's European Offshore Wind Deployment Centre (EOWDC) has also marked a UK offshore first.
The first foundation, which weighs in at almost 20 Boeing 747s, was installed on Sunday in just under 15 hours.
Gunnar Groebler, Vattenfall's senior vice president of business area wind, said: "The EOWDC is a cornerstone of Vattenfall's and the industry's drive for innovative cost reduction in offshore wind.
"To be fossil free within one generation, a climate-smart offshore wind programme embracing science and technology is really important for Vattenfall.
"Where appropriate, we are keen to see the EOWDC's novel approach to foundations – along with all its other innovations – rolled out to the rest of the industry."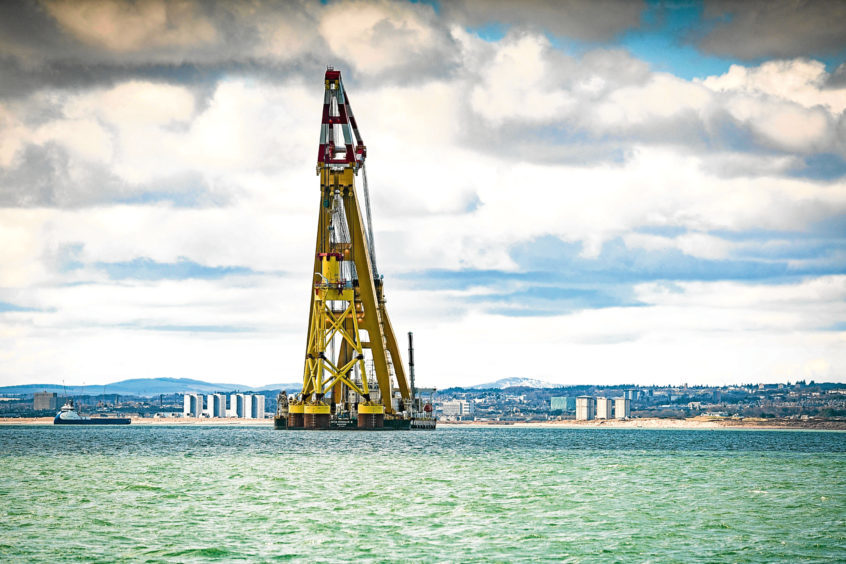 President Trump had argued against the wind farm, claiming it spoilt views from his course, but the Supreme Court in London rejected his appeal against Holyrood's decision to give the go-ahead to the project.
Adam Ezzamel, EOWDC project director for Vattenfall, said the first installation of the "suction bucket" anchors is a "major accomplishment" for the EOWDC project team and the offshore wind industry.
He added: "Suction bucket jacket foundations –which can each be installed with a single offshore lift, virtually without noise and within a matter of hours – bring considerable environmental benefits. They are lowered into the water where the upturned buckets are rapidly embedded into the seabed, to create a secure foundation for the installation of the world's most powerful wind turbine later this spring."
Mr Ezzamel added: "By enabling faster and smarter installation, the technology will drive down offshore wind costs considerably, provide a further foundation option at challenging sites, while also allowing an easier and complete decommis-sioning.
"These foundations are the first visible structures offshore for the EOWDC which we hope will go some way to help establish the North-east as a centre for offshore wind innovation."
Scottish Government Minister for Business, Innovation and Energy, Paul Wheelhouse MSP, said: "The EOWDC provides a real opportunity to showcase how innovation can continue to reduce the cost of offshore wind and it's fantastic to, at long last, see the first installation of the project's offshore infrastructure.
"As outlined in our energy strategy, we see huge industrial and economic potential attached to offshore wind and floating offshore wind.
"We will continue to support growth in this sector to maintain Scotland's position as a strong hub for innovation and to develop supply chain opportunities, as further demonstration and commercial scale sites are brought forward.
"There is a tremendous opportunity here for partners to collaborate to ensure the sector learns as much as possible from this site in the coming years and I very much look forward to seeing what is achieved."
Jean Morrison, chairwoman of Aberdeen Renewable Energy Group (AREG), said: "The EOWDC has always intended to be a pioneering development and the use of the suction bucket jacket foundations is a great example of fresh innovation in the offshore wind sector.
"This is another exciting stage for the project with first visibility of the structures offshore as the project moves closer to its operational phase."
Located in Aberdeen Bay, the EOWDC will boast 11 turbines and aims to provide clean energy.
Construction of the development is due to finish later in 2018.
Once finished, it is expected to generate the equivalent of 70% of Aberdeen's domestic electricity demand.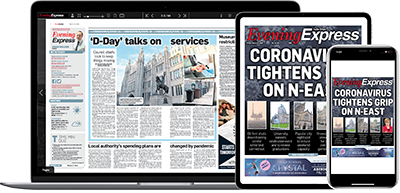 Help support quality local journalism … become a digital subscriber to the Evening Express
For as little as £5.99 a month you can access all of our content, including Premium articles.
Subscribe