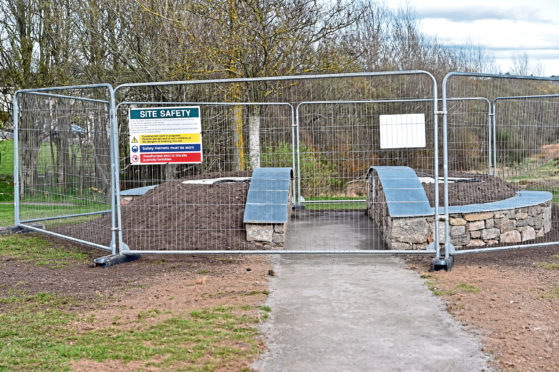 Work has started to create five new sculptures which will mark the 50th anniversary of a north-east community.
The Westhill Gateway artworks, the brainchild of the Westhill and Elrick Community Council, are set to be completed in time for the town's annual gala this summer.
The bronze pieces, which will be visible to drivers as they enter the town, have been created by Ireland-based German artist Holger Lonze.
Each one represents a farm that was on the site before the town was developed and will have a water-like finish to depict the oil and fishing industries which stimulated its growth in the last half-century.
Kate Lumsden, a member of the community council and leader of the gateway project, said: "We have got the foundations down, and there is already a path through the middle which is disabled-friendly.
"That means everyone will be able to enjoy the sculptures.
"We've got a dry stone dyke which goes halfway round the sculptures, and it's got a flat top so people will be able to sit on it and have a look at them. We are still to get it planted but things are really coming along.
"We are hoping to have an official unveiling day for the sculptures on May 11 and we've got a lot of other things planned as well. We are keen to tie it in with the gala.
"We've been talking to a lot of people who had connections to Westhill before it was developed to find out a bit more about what it was like, because we want there to be as much information as possible available at the site.
"There will be quizzes and activities for primary school children and a lot of other things going on as well.
"We are really keen to tell people about the history of the area and we're working hard to make sure they know."
---
---
Kate said that now construction has begun, there is a sense of excitement in the town about the project.
She said: "The whole reason the community council decided to do this is because we felt that although Westhill is a big town now, it doesn't really have the identity to reflect that.
"We wanted to change that by giving the town a nice entrance so that people will really know they are in Westhill when they arrive.
"We are relieved work has started on the project and I think people in Westhill are quite excited about it now.
"We are really looking forward to seeing them when they are finished."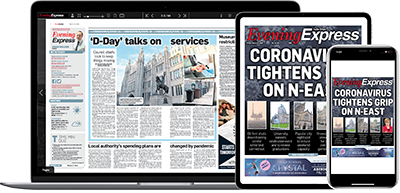 Help support quality local journalism … become a digital subscriber to the Evening Express
For as little as £5.99 a month you can access all of our content, including Premium articles.
Subscribe