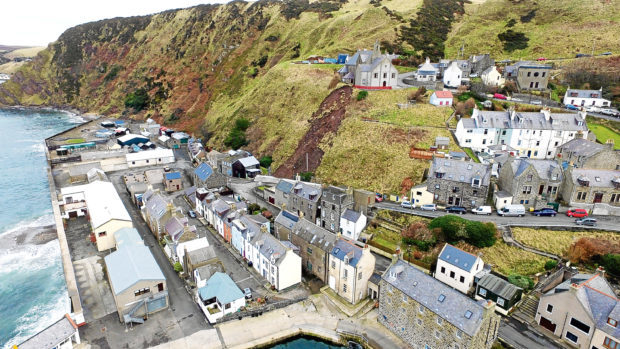 Investigatory works will get under way this week at a North-east village affected by a landslip.
Work will begin in Gardenstown, pictured, in the area between New Church and Harbour Road, after a contractor was appointed by Aberdeenshire City Council.
Intrusive investigations are expected to take 19 days to complete and are essential to progressing a permanent solution for the village. Boreholes will be drilled at a number of sites from Wednesday.
The landslip, which happened overnight on November 28 last year, has resulted in the road being closed since, due to the risk posed by the insecure hillside.
Head of Roads, Landscape and Waste Services, Philip McKay, said: "It is extremely unfortunate that the road layout in Gardenstown means closure of Harbour Road at this location prevents all vehicular access to the New Ground, the harbour area and Seatown.
"Ground investigations are due to start this week, expected to take four weeks to complete. The information we gather from this work will be essential as we work towards a permanent solution.
"Unfortunately, these works will be disruptive and I hope residents will bear with us and appreciate that it is a vital part of moving us forward.
"I fully appreciate that the situation is frustrating for those affected."