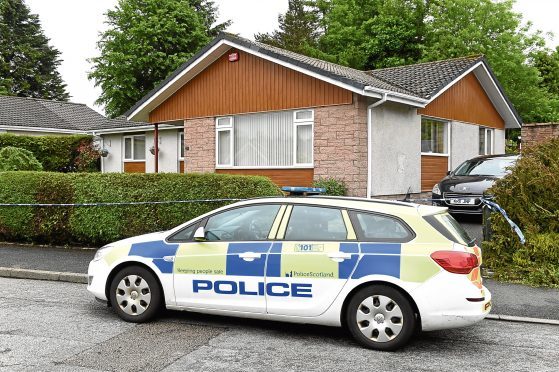 A woman accused of trying to kill her husband told police that she "may have saved someone's life" by attacking him to stop him drink-driving.
Grace Fullerton, 61, is on trial at the High Court in Aberdeen after "repeatedly" stabbing husband of 29 years, Iain, at their Westhill home.
One of the first police officers to arrive at the Brimmond Crescent bungalow following the attack, on June 14 last year, gave evidence yesterday.
Pc Jennifer McNulty read notes from the time, which quoted the accused saying that she "wanted to stop her husband from drink-driving".
She said: "The accused told me 'I'm just consoling myself that I may have saved someone's life, I went for him'."
Fullerton, who lives in Aberdeen's Wallfield Crescent, sobbed in the witness stand as she described their "volatile" marriage.
She said: "There were times when we were physical with each other. I've had black eyes more than once.
"He was aggressive when he turned to alcohol, which was becoming more frequent, and I got really frustrated with him doing so many silly things that were putting us at risk. Drink-driving was a big problem.
"Iain had even taken to hiding vodka bottles in the woods beside our house."
Fullerton, who was found with self-inflicted wounds after stabbing her spouse, said the fight happened when he tackled her over his car keys – which she had hidden to prevent him from driving.
She described the ensuing altercation as a "stramash" and insisted she caused 15 wounds with a knife only in an effort to evade him.
She added: "I had no intention of murdering him. I didn't want to hurt him."
Fullerton denies attempted murder and has lodged a special defence of self-defence, and claims that she was "unable, through mental disorder, to appreciate the wrongfulness of her conduct".
Psychiatrist Pauline Larmer wrote a report which agreed she had a mental condition called adjustment disorder – which is exacerbated by stressful events.
But Dr Larmer concluded that the disorder did not mean Fullerton was unable to appreciate that her actions were wrong.
Mr Fullerton, a 64-year-old offshore development consultant, says he cannot recall the incident but backs his wife's version of events.
The Crown has dropped three other charges, relating to Fullerton behaving in a threatening or aggressive manner towards her husband and assaulting him between 1992 and 2016.
The trial, before Lord Ericht, continues.