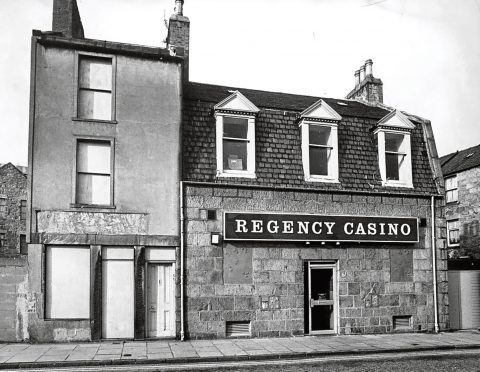 A chef accused of murdering a restaurant owner almost 40 years ago would visit an Aberdeen casino with his alleged victim "all the time", a court has heard.
Riasat Khan, 63, used to visit a gaming house in the city with Kazi Ahmad in the months before the businessman's body was found in a nearby property in October 1978.
The High Court in Edinburgh heard how waiter Syed Munjibur Rahman told police last year that the pair would visit the casino after shifts at the Raj Dulal Restaurant.
Mr Rahman said Mr Ahmad "felt comfortable" having Khan by his side. The court heard this was because Mr Ahmad carried "large amounts of money".
Mr Rahman, 55, agreed with a suggestion from defence advocate Gary Allan QC that there was a friendship between the two men.
Mr Allan then asked Mr Rahman: "They would go to the casino all the time together?"
He replied: "Yes."
Mr Rahman, of Inverness, was giving evidence on the second day of proceedings against Khan, who denies theft and murdering Mr Ahmad. Khan, of Clare Gardens, Cardiff, has lodged a special defence of self defence.
The defence states the accused acted in self defence because the deceased "attacked" him first.
Yesterday, Mr Rahman told the court Mr Ahmad was one of four partners with a controlling stake in the Raj Dulal restaurant.
He said Mr Ahmad liked to gamble in his spare time and sometimes shared his winnings with staff.
He told the court: "He used to be more happy, more jolly if he won a lot of money.
"He gave me a £100 note on one occasion. He was a generous person. He was happy. I was a young person.
"I had never seen a £100 note before."
Police investigating Mr Ahmad's death spoke to Mr Rahman last year.
He told detectives then that Khan – a tandoori chef – would accompany him to a casino in Aberdeen.
Mr Rahman said: "He would be more comfortable with Khan there."
The court had earlier heard that Mr Ahmad was seen leaving the Regency Casino in Aberdeen at around 4am on Thursday, October 12, or Friday, October 13, 1978.
Mr Rahman said on Friday, October 13, 1978, Khan arrived late for work at the restaurant and didn't look well.
Speaking of the moment Khan arrived Mr Rahman said: "I said to him 'chef is looking for you'.
"He ignored me and he left.
"He was there for around half an hour.
"Later, I saw him with a black bin bag. He was carrying it over his shoulder.
"I asked him where he was going and he said 'mind your own business' and left.
"He didn't look well. He said he had stomach problems."
The court heard Mr Rahman told officers investigating Mr Ahmad's death that Khan had told him he was going to a laundry.
The court also heard from Mr Ahmad's business partner Mashuk Meah, 63, who told how Khan asked him for a £200 loan a short time before the businessman was allegedly murdered.
In the police statement, Mr Meah said Khan said a member of his family back home had fallen ill.
He also allegedly told Mr Meah that he would pay him back from his wages.
The trial, before judge Lord Beckett, continues.