The organiser of a new north-east running event has defended the rule that only women can take part.
A five-mile race is due to take place next month and has been organised by Run Portlethen, part of Sportlethen.
Money to hold the event came from 2014 Glasgow Commonwealth legacy funds from the Sport Scotland initiative GO LIVE!
That money is targeted at groups that are at risk of becoming inactive.
Sportlethen received the maximum £5,000 legacy funding across a number of projects.
Lynne Erskine is chairwoman of Sportlethen and since the run was announced she has received feedback questioning why men can't take part.
She said: "We've had a number of inquiries as to why this is a women's event.
"Each project was to be aimed at a specific target group who are identified as being at risk of inactivity – women being one of those identified groups.
"We thought we would trial a run just for the ladies this year, to see if we can remove some barriers to participation – Sport Scotland agreed that this was a great idea with not many female-only runs on the go in this area.
"This is not to say that the event will be female-only in future, as we will be monitoring the impact, and noting any feedback that we receive – positive or negative.
"The gents can still be involved in marshalling and also in the family dash, and of course being essential cheer squad for the girls."
Mum-of-four Lynne has said she is now focusing on ensuring that the run, on September 9, is a success.
She said: "It's not long at all until the run now and I'm feeling a mixture of excitement and nerves.
"This is very different to anything that I've done with Sportlethen before.
"I'm delighted with how things are going so far and I think it'll be an excellent day.
"Although there have been a few complaints most people have been very positive and supportive of the race.
"Running is a huge part of my life in Portlethen and has really helped me feel at home here.
"I am originally from Dunfermline and moved up here for my husband's job.
"Getting involved with running gave me a community up here and it's fantastic to be able to bring that to more people."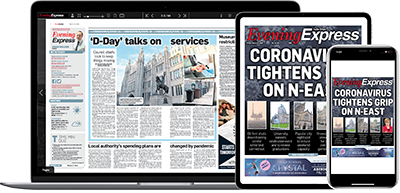 Help support quality local journalism … become a digital subscriber to the Evening Express
For as little as £5.99 a month you can access all of our content, including Premium articles.
Subscribe