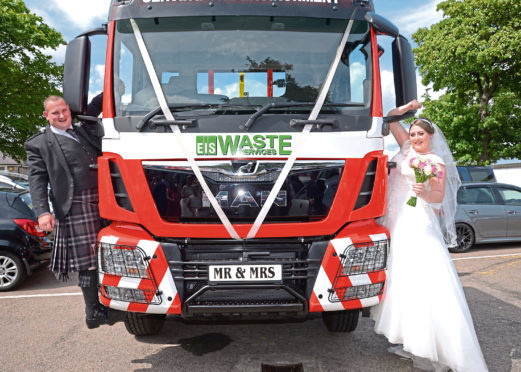 For the past decade lorry driver Mike Pirie has only had eyes for his beloved, Stacey Innes.
So you can imagine poor Stacey's surprise, on what was supposed to be the happiest day of her life when she discovered she was not the only thing to catch groom Mike's eye!
Mike, 30, who works for EIS Waste Services in Nigg, said: "We had already exchanged vows, then our minister, Reverend John Watson, started to crack a few jokes.
"I didn't think anything about it at the time, but looking back he was obviously stalling for time."
By the time the wedding photographer had called the wedding party outside, the newlyweds thought nothing of it… until they both heard the gravel crunching on the driveway to turn and see it was a new company truck for Mike.
"I was totally speechless", he added. "All I remember was hearing Stacey say, 'oh come on',
"Neither of us had any idea we were going to have something like this sprung on us."
Best man and elder brother Steve, who also works for EIS Waste Services, was behind the wedding surprise.
He did a marvellous job of making sure the MAM 8 x 4 (eight wheeler, four wheel drive) with 410 brake horsepower and hook lift, was decked out appropriately with wedding ribbons on the windscreen and Mr & Mrs registration plates.
And Mike was definitely chuffed to be nominated to drive the latest addition to the fleet.
"It was a very nice touch, we both thought, once we got over the surprise."
Mike, who originally comes from Ellon, met Stacey through mutual friends in 2008.
"We texted each other back and forth for a while and eventually I just asked her out.
"We've been together ever since."
Mike and Stacey, 27, who works as a nurse at Laurels Lodge in Woodside, exchanged their wedding vows at the Palm Court Hotel on Friday June 15.
The groom, who by his own admission is not overly romantic, had a heartfelt surprise to give to Stacey on their big day.
"I wrote her a nice poem," he said.
The Bridge of Don couple's big day turned out to be the stuff dreams are made of.
"We couldn't have asked for a better day. It was perfect start to finish."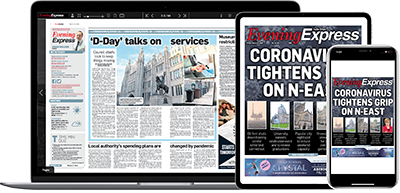 Help support quality local journalism … become a digital subscriber to the Evening Express
For as little as £5.99 a month you can access all of our content, including Premium articles.
Subscribe