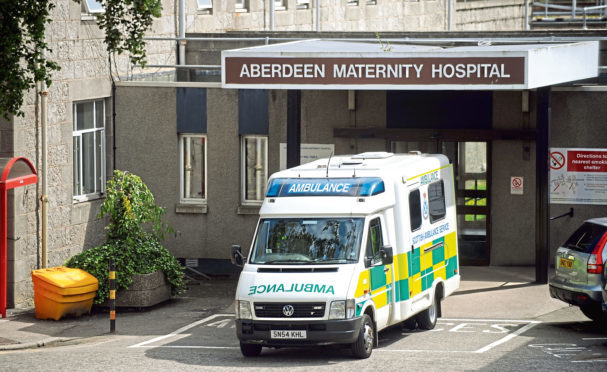 Staff shortages will see the midwifery unit at Aberdeen Maternity Hospital (AMH) "temporarily" moved to the labour ward, NHS Grampian has announced.
The move, which the health board says will last for around three months, was announced last night with the view to "support safe care for women and provide staff with the sustainable support they need".
However, there are fears the problem could leave the city's birthing pool – located within one of the midwifery unit's four rooms – unavailable to some expectant mothers, with the nearest alternatives in Peterhead (Community Maternity Unit) and Elgin (Dr Gray's) for water births.
The health board has offered assurances existing birth plans "will be maintained".
The midwifery unit is currently short by 20.8 full-time-equivalent posts, with bosses blaming vacancies, maternity leave, secondments and long-term sickness.
NHS Grampian has identified 22 Robert Gordon University graduates to take up these positions but some may not begin work until October.
In the interim, existing staff have been taking on additional hours – described as "working flexibly" – while bosses have also had to fall back on bank staff.
But last night's statement said current staff cannot provide any more cover "without significant risk of this impacting on their own health".
Interim chief midwife Jane Raitt said: "Women can be assured that their birth plan will be maintained.
"Midwife-led care and all choices will still be provided.
"If any woman wishes to use the pool in AMH she should discuss this on admission and if staffing and workload at that time is satisfactory her request will be supported.
"Our philosophy of care is to support women to achieve the birth experience that they would like."
Professor Jamie Weir from the Patient Action Co-ordination Team said: "The safety of the mother and baby is paramount and we strongly support that.
"However, it would appear that inevitably some birth plans will be compromised because of staff shortages, for example the use of the birth pool."
Prof Weir added: "Although this may be disappointing for some mothers, the wellbeing of both mother and baby is the primary concern to all.
"We sincerely hope the planned staff replacement programme bears fruit."