A North-east pantomime group has produced a show-stopping trailer based on an iconic movie scene in a bid to promote its Christmas production.
The Peterhead Panto Group will take to the stage over the festive season with Beauty and the Beast and has produced a video, mimicking the opening scene of the classic Disney animation.
The director of this year's production, Angela Ireland, explained how – together with Orchard Media Solutions – the group decided on a theme for the two-minute teaser.
She said: "It's our third year doing trailers for our shows, we find it really gets the community talking about it and gets everyone excited.
"We sat down with the media group and, after a discussion, we decided on the scene where Belle walks through the village square.
"We filmed it over two days – it was difficult to get everyone together at the same time in daylight hours because everyone has other commitments like school or work."
The 14 cast members and 42-strong chorus gathered in Peterhead to film Belle, played by Claire Campbell, walking down Broad Street – stopping to pay a visit to Graham Barron of the town's West End Butchers.
Angela said: "The butcher is the only one who is not part of the cast, he is actually the town butcher, but was absolutely delighted to be asked."
Dr Iain Small, who helped write the panto with Stuart Fraser and Angela, often stars as the dame in productions and features in the trailer with heavy make-up.
The group, which rehearses three times a week, staged a production of Peter Pan last year that sold out within 30 minutes of going on sale.
And the hope is Beauty and the Beast will prove just as successful.
Tickets, which go on sale at 7pm on Monday, can be purchased from www.peterheadpanto.com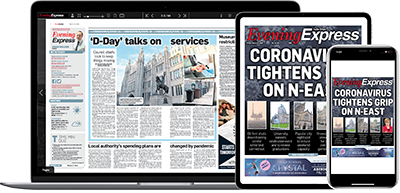 Help support quality local journalism … become a digital subscriber to the Evening Express
For as little as £5.99 a month you can access all of our content, including Premium articles.
Subscribe