School kids in a North-east town are getting behind Fraserburgh FC ahead of tonight's Scottish Cup clash against Rangers.
Pupils from the town's South Park School have been showing their support by releasing a video.
And children at St Andrews Primary School are also showing their support by reciting a song aimed at cheering on their heroes to victory.
The primary six class penned a letter to the club, wishing them "good luck" for the big match.
Fraserburgh's chairman Finlay said locals had done superbly to keep momentum ahead of the clash which will put the town and his team on TV screens around the world.
"It's been brilliant," he said. "The town doesn't always sell itself well, but big occasions like this and it galvanises everyone and this is certainly one of them.
"It's great for the town and I'm just delighted we could provide the avenue for that good feeling."
He said it was touching to see the town united in black and white with garden displays, window displays and even a giant hay bale mascot at the south entrance to the town.
"It's great to see the shops all decorated – people aren't doing this because they have to do it, they are doing it because they want to do it," he said.
Fraserburgh FC prepare to make history in Scottish Cup clash against Rangers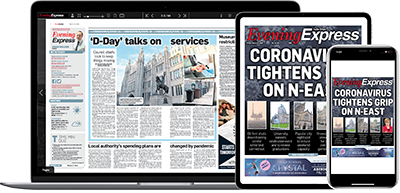 Help support quality local journalism … become a digital subscriber to the Evening Express
For as little as £5.99 a month you can access all of our content, including Premium articles.
Subscribe