A group of refuse collectors are hoping to dump the competition and be named the best in the country.
A squad of north-east scaffies are in training ahead of the National Refuse Championships, which is held in Weston-super-Mare.
They will be the first Scottish team to take part in the event, which is held in aid of national charity Alzheimer's Society.
Each team is made up of five people, including the driver, working in pairs and taking it in turns to load large wheelie bins with sand.
The bins will be pushed 50 metres to an awaiting truck, which will be used to empty it.
Then the team will take the bin back to the starting line to begin again, as the truck moves in 50 metre stages towards the finish line.
A series of timed heats will be held with a race between the two teams lucky enough to reach the final.
It is designed to test the skills of drivers and loaders with tracking, manoeuvring, health and safety and weight-lift challenges.
Based at the Souterford Road depot in Inverurie, the Aberdeenshire Council group has been fundraising to pay for travel to the competition, but also have a list of charities which the members would like to support with donations.
Team member Gemma Rosie came up with the plan to attend.
She said: "Ours is the first Scottish team to enter this event, so we are very proud to be representing not just Aberdeenshire Council, but all waste sector workers across Scotland.
"We have a lot of organising and hard work ahead but are hopeful of getting the support of both the residents and businesses of Aberdeenshire.
"As we've been going about our daily routes we have been speaking to customers, businesses, householders and anyone we can to tell them what we're up to, and a number have already offered support."
Dubbed "Scaffies on Tour", the waste team has been holding a range of events to help fundraise to get them to the championships.
Taking Bennie and Dusty Bin in tow, they have hiked Bennachie, car washed and taken on a sponsored spinathon.
To date, members have raised more than £1,400.
Upcoming events include bag packing at Morrisons, in Inverurie, on May 10 and 11 from 6pm until 9pm, a disco on May 18 at Edwards Nightclub in Inverurie from 7pm until midnight and a quiz night with an auction and a raffle on June 29 at the Inverurie Golf Club.
North-east charities have been chosen to benefit from money raised by the refuse collectors, including Inverurie food bank, CLAN Cancer Support, Willows Animal Sanctuary, Doddie Weir Foundation and Friends of the Special Nursery at Aberdeen Royal Infirmary's Neonatal Unit.
The event will take place on June 16 from 9am until 4.30pm and will include a small funfair, and a fish and chips by the sea party afterwards, with entertainment provided by band Free Spirit.
To donate to the campaign, visit www.justgiving.com/crowdfunding/scaffiesontour2018
To keep up to date with the team's events and for more information, look up their Scaffies on Tour Facebook page.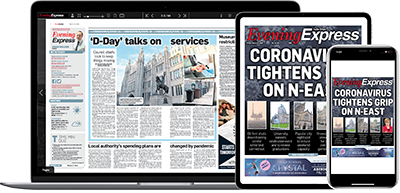 Help support quality local journalism … become a digital subscriber to the Evening Express
For as little as £5.99 a month you can access all of our content, including Premium articles.
Subscribe