A North-east lifeboat crew had a furry surprise waiting for them as they arrived at work yesterday.
Sunning itself at the top of the steps near the Fraserburgh Lifeboat was a grey seal.
The animal appeared to have been enjoying the peace and quiet before the crew turned up at the harbour.
In the video, posted by the crew to Facebook, the seal is seen making a swift escape down the stairs – before turning back and posing for the camera.
The crew member then seemingly taps on the metal railing, encouraging the seal to ungracefully make it's way down the steps and back into the water.
Grey Seals are a common sight in the North-east, although it's much more likely to see them relaxing in places like Newburgh Beach.
They can grow up to 3m long and weigh up to 300kg.
Judging by this animal's reasonably small size it is likely still reasonably young.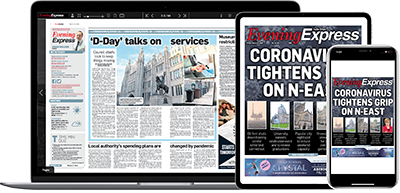 Help support quality local journalism … become a digital subscriber to the Evening Express
For as little as £5.99 a month you can access all of our content, including Premium articles.
Subscribe