An investigation was under way today into the cause of a blaze which ripped through an Aberdeen hotel.
Almost 100 firefighters battled a ferocious fire at the Britannia Hotel in Bucksburn yesterday afternoon.
A total of 14 fire engines from Aberdeen, Stonehaven, Inverurie, Banchory and Ellon were called to the fire at 4.40pm.
More than 90 firefighters battled the fire throughout the night, with 11 still on site this morning.
Scottish Fire and Rescue Service station manager Graeme Hay said teams were investigating if something related to the ongoing works at the hotel contributed to the inferno.
He said: "It's one of the avenues our specialist fire and rescue investigation team will look at. They will come along and speak to witnesses, take all that into account and we will look at that among many other factors as we do with any fires of a nature like this."
He added: "At this stage, we have nothing confirmed as to what has caused the fire.
"We put a stop to the fire and reduced it overnight.
"A review was to be made today to see who can get in for their belongings.
"The fire isn't suspicious at this time."
At the height of the blaze, smoke could be seen as far as Summerhill and Bridge of Don.
It's understood around 200 people were staying in the 252-room hotel.
Before the fire, part of the hotel was being improved which included work being done to the roof, as well as the Village Pub, which was destroyed by the blaze, along with some bedrooms.
Nobody is thought to have been injured in the drama.
Graeme Hay said the blaze escalated quickly.
"The hotel was very busy," he said.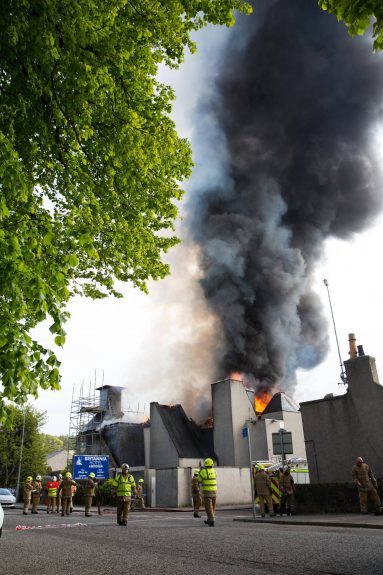 "The priority was to extinguish the fire and to make sure there was no life risk. There were no reports of injuries or people missing.
"The fire spread to the bedrooms on the northerly wing. The east and the north areas are the worst affected.
"I haven't spoken to the hotel management, but I would guess they would do their upmost to get the hotel back to reality, but it would be a number of days before it's up and running properly."
For safety reasons, residents weren't allowed back into the hotel overnight to collect their belongings.
Graeme added: "Nobody was allowed in the hotel last night.
"It was still a fire zone.
"The investigation team will be liaising with police and hotel staff.
"We will be speaking to everybody involved today."
A Police Scotland spokeswoman added: "We are assisting with the investigation.
"It doesn't appear to be anything suspicious."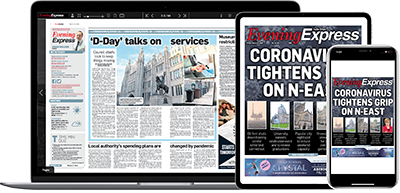 Help support quality local journalism … become a digital subscriber to the Evening Express
For as little as £5.99 a month you can access all of our content, including Premium articles.
Subscribe