A stone-lifting record steeped in north-east history has been smashed – by a former Gladiator.
James Crossley, who was Hunter on the hit 1990s TV challenge show Gladiators, spent five months training to take on the famous Dinnie Stones.
He came to Potarch, Aberdeenshire, on Saturday to have a go at breaking the record for lifting the stones the longest.
The 44-year-old managed to keep the combined 332kg stones off the ground for 34 seconds, beating the previous best time of 33.9 seconds set by Bryan Hunsaker, of the USA, last March.
"I was a broken man at the end. All I could do was break down and burst into tears – the emotion came out at once," said James, who lives in the south of England.
The stones were first lifted in 1860 by Donald Dinnie – and people come from around the world to try to lift them, with only 28 succeeding.
Weightlifters have just two opportunities each year to lift them, but must show photographic proof they can lift 300kg.
James discovered the challenge in November and was so determined to break the record, he devoted five months to a specialist training regime.
"I lived like a monk. I didn't drink alcohol, I kept to a strict diet and went to bed at 10.30pm each night," said James.
He added: "I went to bed thinking about the stones and woke up thinking them.
"I trained in a gym that had replica Dinnie Stones and had to massively improve my grip and shoulder muscles.
"I was told I could break the record if I put my whole being into it – and that it would hurt."
James, who recently released a fitness DVD called Fit At 40+, achieved the record at the third attempt before a crowd of dozens on Saturday.
He said: "I had the Rocky theme tune running through my head. It was a massive rush to break the record."
Ballogie Estate marketing co-ordinator Helen Knowles: "James showed true grit and determination to beat the record."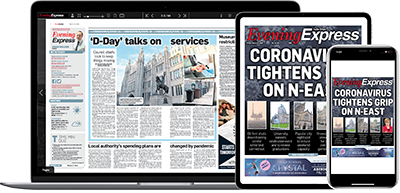 Help support quality local journalism … become a digital subscriber to the Evening Express
For as little as £5.99 a month you can access all of our content, including Premium articles.
Subscribe