Theresa May's future as Prime Minister and leader of the Conservatives was being openly questioned after her decision to hold a snap election disastrously backfired.
As the June 8 poll ended in a hung parliament, with no party holding an absolute majority in the House of Commons, Mrs May pledged to offer "stability" if the Tories end up as the largest party with the most votes.
Conservative former minister Anna Soubry said she should "consider her position" and take personal responsibility for a "dreadful" campaign and a "deeply flawed" manifesto after choosing to go to the country three years early in the hope of extending her majority.
If you're just waking up, this is the latest from #ge2017 – the UK faces a hung parliament pic.twitter.com/8STHaMhFA6

— Press Association (@PA) June 9, 2017
Labour leader Jeremy Corbyn called on the Prime Minister to resign, saying she should "go and make way for a government that is truly representative of this country".
Former chancellor George Osborne, sacked from the Cabinet by Mrs May and now editor of the Evening Standard, told ITV: "Clearly if she's got a worse result than two years ago and is almost unable to form a government then she I doubt will survive in the long term as Conservative party leader."
With 630 out of 650 constituencies declared, a Press Association forecast predicted that Tories would end up with 320 seats, 10 fewer than when the election was called and six short of an absolute majority.
Labour was heading for 260 seats, the Liberal Democrats for 14, the Scottish National Party 34, Plaid Cymru three and Greens one, according to the PA analysis.
A BBC projection put the Tories on 43% overall, about six points up on David Cameron's result in 2015, and Labour on 40%, spectacularly outpolling Ed Miliband and Gordon Brown's results and even racking up more votes than Tony Blair did when he won power in 2005.
The Democratic Unionist Party, which increased its representation at Westminster from eight to 10, signalled it was ready to discuss working with Tories on issues such as Brexit and keeping the UK together.
With the party in a position to hold the balance of power at Westminster, senior MP Sir Jeffrey Donaldson said the DUP would be "serious players" in the hung parliament, telling the BBC: "This is perfect territory for the DUP because obviously if the Conservatives are just short of an overall majority it puts us in a very strong negotiating position and certainly that is one we would take up with relish."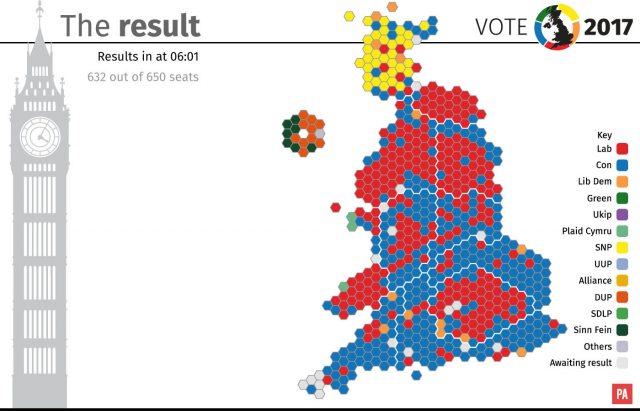 Three gains by Sinn Fein, which does not take up seats in Westminster, made it slightly easier for a combination of parties to achieve a working majority.
The pound plummeted as the shock figures set the scene for political turmoil at Westminster, disruption to upcoming Brexit negotiations and the possibility of a second election later in the year.
(function(i,s,o,g,r,a,m){i['GoogleAnalyticsObject']=r;i[r]=i[r]||function(){
(i[r].q=i[r].q||[]).push(arguments)},i[r].l=1*new Date();a=s.createElement(o),
m=s.getElementsByTagName(o)[0];a.async=1;a.src=g;m.parentNode.insertBefore(a,m)
})(window,document,'script','//www.google-analytics.com/analytics.js','ga');
ga('create', 'UA-72310761-1', 'auto', {'name': 'pacontentapi'});
ga('pacontentapi.set', 'referrer', location.origin);
ga('pacontentapi.set', 'dimension1', 'By PA Reporters');
ga('pacontentapi.set', 'dimension2', 'd05a02cc-d381-4dab-b2a3-2af9292b232a');
ga('pacontentapi.set', 'dimension3', 'paservice:news,paservice:news:uk');
ga('pacontentapi.set', 'dimension6', 'story-enriched');
ga('pacontentapi.set', 'dimension7', 'composite');
ga('pacontentapi.set', 'dimension8', null);
ga('pacontentapi.set', 'dimension9', null);
ga('pacontentapi.send', 'pageview', { 'location': location.href, 'page': (location.pathname + location.search + location.hash), 'title': 'Calls for Theresa May to quit as snap election delivers hung parliament'});