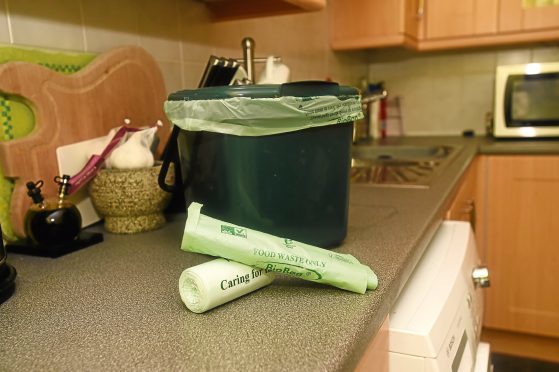 Councillors have asked officers to reconsider charging people postage for food recycling bags in Aberdeen.
Members of Aberdeen City Council's zero waste management sub-committee discussed a recommendation yesterday, which could see the local authority levy a charge to cover the postage costs for bags.
Currently, Aberdeen residents don't pay for bioliners to be posted to them, however, there are points in the city from which they can collect the bags.
Councillors agreed to tell officers to look at different ways residents can collect bags, and prevent a charge being introduced.
A report to the meeting stated: "The cost of postage has risen dramatically since this was introduced and in 2017 the cost per package (two rolls of 25 bags) is around £2.33."
It is believed the council spent £30,000 last year sending out the bags and £100,000 buying the bioliners.
Cllr Steve Delaney, who represents Kingswells/Sheddocksley/Summerhill, said: "I have concerns that if we start to charge people for bags they will start to mix food waste with general waste.
"People may even resort to throwing waste into streams which could lead to contamination."
Meanwhile, Cllr Jackie Dunbar, who represents Northfield and Mastrick North, said: "I would be happier if we got a report back on how we can improve the service before bringing in the charges, or if charges are necessary at all.
"I think it is too early to be charging people postage.
"Some people only have the option to have them posted out to them so I think we need to look at this again.
"I would like to see choices in place first before we try to charge for postage."
Cllr Yvonne Allan, who represents Torry and Ferryhill, said an advertising campaign should be carried out to tell people in communities where they can collect bags instead of having to post them out.
Pam Walker, the council's waste strategy manager, said: "In a subsequent report we propose that we bring forward a report that gives a full explanation of the alternatives as well as the charge option for consideration."