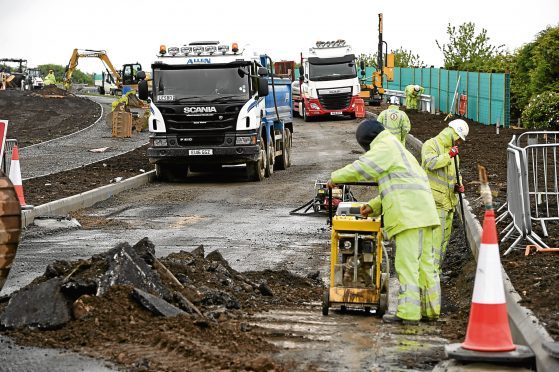 Residents have been warned they could face up to eight weeks of disruption to their water supply as a result of the Aberdeen bypass.
Scottish Water has notified people in Stonehaven there could be issues as a result of work at the Stonehaven Junction for the major development.
Work will be carried out from August 28 to divert the water main.
A spokesman for Scottish Water said: "The work we are undertaking in the Stonehaven area is to carry out further water main diversion works in relation to the current AWPR works and is expected to last around eight weeks.
"Most of the work will be within the AWPR site, however there may be some occasions when work is required outwith this area. Some local traffic management may be in place when required but we will endeavour to keep any disruption to a minimum.
"For a short period during the works there may be disruption to water supply for a small number of customers.
"Any affected customers will be notified at least 48 hours in advance and will be informed of the timescales involved."
In a letter to residents, Scottish Water said the works are being carried out at various locations along the route.
Most of the work will be within the AWPR/B-T works, although there might be some occasions when the work will be carried outside of the area.
A spokesman for Transport Scotland said: "Over 400 utility diversions have been undertaken as part of the AWPR/B-T project.
"One of these diversions involves work being undertaken by Scottish Water, close to the A90 northbound slip road at Stonehaven.
"Transport Scotland and the project contractor, Aberdeen Roads Limited, have been working closely with Scottish Water, and each of the other utility companies, throughout the duration of the project to minimise the impact on the local community and road users."