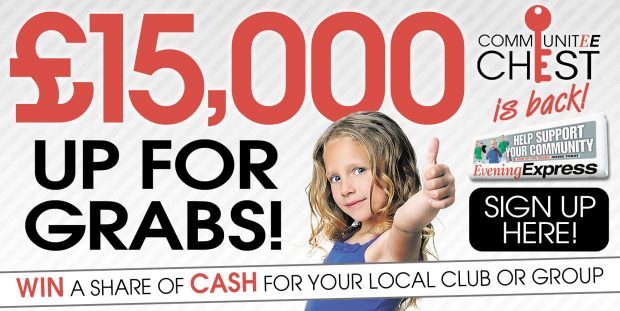 CommunitEE Chest is back – and dozens of North-east groups will be in the running to share a fantastic £15,000 cash pot.
Community organisations from across the North-east are today being urged to register and start collecting the tokens that could set them on the road to success.
This year, 16 groups with the highest number collected will pocket the cash.
Keep Scrolling to register your group online
The money can be spent on whatever they wish – whether it's new equipment or uniforms, the trip of a lifetime, or to pay to take part in competitions or championships
Our three categories split up organisations by member numbers, so it's not just larger groups that have the chance to win.
Ten groups with up to 30 members will take home £500 and five groups with between 31 and 50 members will scoop £1,000.
One larger group, with more than 51 members, will be awarded an amazing £5,000.
One of last year's lucky cash recipients was Aberdeen Synchronised Ice Skating Club.
After enjoying success in CommunitEE Chest a few times, head coach Sara Paterson said it's a great way to raise vital funds – and everyone can take part.
She said: "It's an easy thing for the kids to do and it gets everyone involved.
"We're constantly fundraising and it's extra pressure on the parents' finances, but we don't want anyone to feel that they're being left out, so this lets us do that without putting pressure on the parents and it's nice for us to be able to provide something new."
Other multiple winners include dance company Danz Creations, who took home the top prize for the third time last year.
The dance group was established in 2006 by Lee Simpson and Jacqueline Dempster and now has more than 300 students, aged between three and 24, and has bases in Aberdeen, Balmedie and Kinellar.
In the past they have spent their winnings on their biannual show and to buy costumes and equipment for their students.
Other winners last year included the 21st Company Girls' Brigade, ASV Table Tennis Academy and Club, Albion 2005, Donside Juvenile Football Club 2002 Group, Aberdeen Judo Club, AV Cheerleaders, Dee Boys 2006s, Middlefield Wasps 2002, Dee FC and Blue Dynamite Cheerleaders, Grampian Juniors Bowling Association and James Tyrell Centre.
Not-for-profit organisations are encouraged to register to take part, which is free to do.
After that all they need to do is collect as many tokens as they can.
Tokens will be printed in each Evening Express newspaper from September 11 until October 7 and the groups that have collected the most from each category will take home the money.