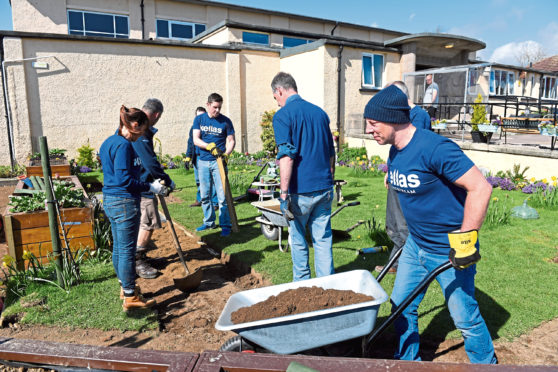 Work is under way on a project to revamp an Aberdeen community garden.
Around 20 volunteers from energy firm Kellas Midstream turned up at Inchgarth Community Centre for a "Gardening SOS Day" alongside the Inchgarth community gardening group, which is led by resident Bryan Hall.
The centre has received £2,000 from the firm as well as its support to lay paving stones, build fences and plant trees and shrubs.
Paul O'Connor, manager of Inchgarth Community Centre, said: "We are delighted with the support Kellas Midstream has given us, not only financially but in terms of the time the team has committed to ensure the garden is a facility for the entire community to use and be proud of for many years to come.
"Bryan Hall and his team of volunteers have been instrumental in the garden's ongoing development and maintenance since it was launched in August 2018, and the additional support from Kellas has helped us take the garden to the next level much quicker than we had planned.
"This really is a great example of how companies in the energy sector can make a contribution that has a positive and lasting impact on people in the local community."
The community centre manager said the 20 staff are "ensuring this community space is one for the entire community to be proud of and utilise for years to come".
Alan Murray, operations director at Kellas Midstream, said: "We are extremely pleased to be supporting the Inchgarth community garden, which is a valuable asset for the residents of Garthdee, and a project where we believed we could really make a difference.
"By building on the work that Bryan and his team have already done, the garden is now ready for the spring and summer months when it will be widely used by many in the local community, as a safe and pleasant space to meet, play and socialise."
Kellas Midstream is an energy infrastructure company delivering safe, reliable and innovative solutions for its customers, and growth for its stakeholders.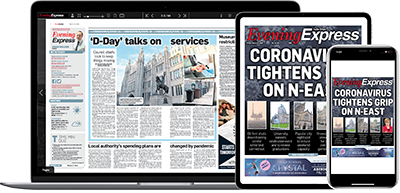 Help support quality local journalism … become a digital subscriber to the Evening Express
For as little as £5.99 a month you can access all of our content, including Premium articles.
Subscribe