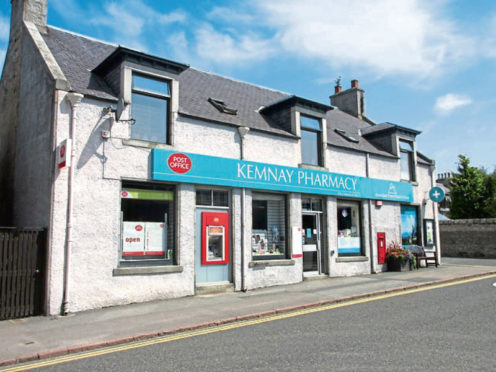 A new post office is to open in a north-east village after a petition was launched to save the old one.
Locals set up the petition to retain Kemnay post office, pictured, after it emerged it would be closing due to the postmaster's resignation.
Online it gained more than 500 signatures, with locals keen to let the company know there was a demand for its services.
It has now been revealed that a new post office will open in January on Aquithie Road, 240 metres away from the previous location, at the former McColl's Retail Group.
The branch has been temporarily closed since last month due to the postmaster leaving, and the withdrawal of the premises for post office use.
The new branch will provide a modern open-plan environment, and include an open-plan till at a shop counter instead of from a separate screened counter.
Adam Williams, Post Office commercial partnership executive, said: "We are making it easier for customers to get their cash, send and collect their mail and do their banking because we know how important these services are to local residents.
"We are confident that this vibrant new-style post office at the heart of the local community will meet customer needs."
Although the decision has been made to reopen the branch, the Post Office is welcoming feedback on any issues that customers would like to be considered.
Any comments can be offered until January 4, and can be made online at postofficeviews.co.uk with branch code 137801.
Submissions can also be emailed to comments@postoffice.co.uk or made by telephone at 03452 660115.
When the move goes ahead the branch will open from 6am until 10pm every Monday to Saturday, and from 7am until 10pm on Sundays.
This will offer customers in the village 111 hours of post office service per week.