A road rage brawl brought traffic to a halt on an Aberdeen street.
The broad daylight fist-fight between a cyclist and the driver of a car erupted in the middle of Victoria Road in Torry.
An eyewitness, who captured the shocking incident on camera, spoke of his disbelief at the violent scene.
He said: "I couldn't believe it. It just happened totally out of the blue.
"All of a sudden a man came out of the car and started brawling with the cyclist.
"There were punches flying everywhere.
"I've never seen anything like it. I didn't know what to do."
Footage captured by the onlooker shows the cyclist throwing punches at the man from the car, before he backs off and the driver takes a swing himself.
The two men then gesticulate angrily and exchange words before the driver, and a female passenger, go back to their car and the cyclist picks up his bike and rides off.
Queues of traffic formed behind the car during the incident and pedestrians stopped to see what was going on.
The eyewitness added: "It was the sort of thing you might expect to see at kicking-out time in the city centre on a Saturday night, not in the middle of a busy road in broad daylight.
"I didn't see what sparked it but it got really heated and was actually quite frightening.
"Thankfully, nobody seemed to be seriously hurt and they both went on their way before it got even more out of hand."
The incident, which happened at 4.10pm on Thursday, was reported to police, who have appealed for witnesses to get in touch.
Sergeant Ross Geddes said: "We are aware that this incident was filmed and we can confim that it has now been reported to us and inquiries are ongoing.
"I would urge anyone who saw the incident or who has any information to contact officers on 101 using reference number 3667 of 12/7."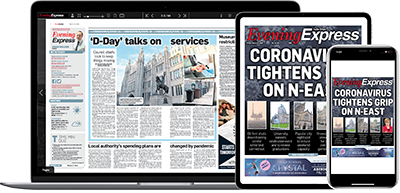 Help support quality local journalism … become a digital subscriber to the Evening Express
For as little as £5.99 a month you can access all of our content, including Premium articles.
Subscribe