Video: Lockdown safety alert after man rescued after falling from cliffs in north-east
The public was today warned to be careful during post-lockdown visits to north-east beauty spots after a man had to be airlifted to hospital after falling down cliffs.
After two quiet months, lifeboat crews have been called called out three times in less thn two weeks – and twice to Slains Castle alone, where this weekend's dramatic rescue took place.
A man was plucked by coastguard helicopter from cliffs at the popular tourist spot near Cruden Bay after he fell down them at around 3.30pm on Saturday.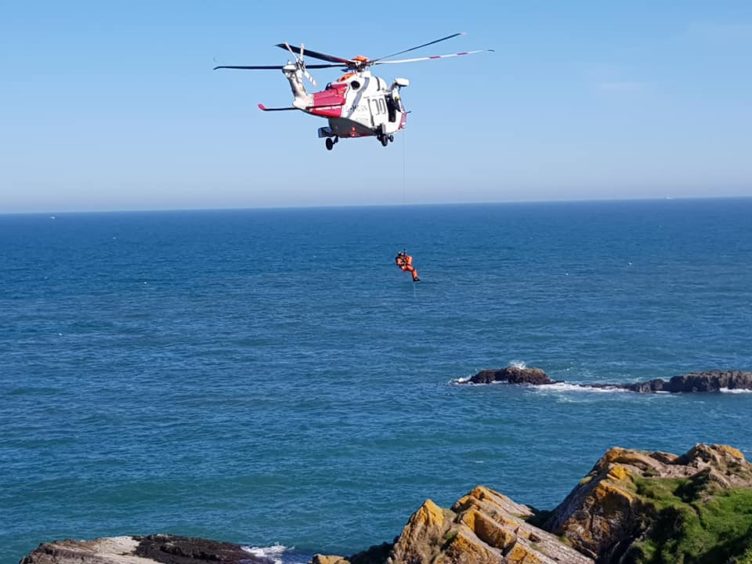 His condition is not known, but it's understood he suffered injuries to his arms and face.
Peterhead's Tamar class lifeboat RNLB The Misses Robertson of Kintail was launched, alongside Coastguard teams from Peterhead and Cruden Bay, and an additional rope rescue team from Stonehaven. The Scottish Ambulance Service and Police Scotland also assisted in the operation.
Jurgen Wahle, lifeboat operations manager for the Peterhead RNLI, said: "Crews assembled as soon as they were called, he was some way down the cliff.
"We had the lifeboat go as near as it could.
"We were there until the Coastguard helicopter came, and we went back at a safe distance."
Mr Wahle said after a quiet couple of months there had been several incidents recently.
"We were there just over a week ago for a dog that had gone off the cliff and we were there again on Saturday," he said.
"Slains Castle is a beautiful place but it's incredibly dangerous.
On Froday found out kayakers had been seen near the breakwater in Peterhead, we assembled and the lifeboat was launched to make a search."
He added: "I strongly expect we will see an increase in calls. More people have been leaving their homes after being locked down for so long, everyone's desperate to get out."
North-east MSP Peter Chapman said: "This serious incident underlines the very difficult job faced by our emergency services as the weather improves.
"People are returning to the coast as lockdown measures ease off.
"Cruden Bay has stunning scenery but walks need to be carefully planned.
"I would urge anyone considering a trip to be mindful of the pressure on the RNLI, the Coastguard, police and many others."
Martyn Simpson, RNLI coxswain mechanic at Peterhead Lifeboat Station, added: "Peterhead Lifeboat has launched to two calls at Slains Castle within the last two weeks – it is a beautiful walk but it can also be very dangerous so we would urge everyone to take extra care.
"Our dedicated team of volunteers are always on call but we are asking people to be aware of the inherent risks when walking near the sea or cliffs."
A statement from the HM Coastguard said: "A rope rescue set up was established and a rope rescue technician was lowered alongside a paramedic.
"Peterhead lifeboat launched their daughter craft however due to the nature of the injuries sustained and location of the casualty, helicopter evacuation was deemed most appropriate.
"Rescue 151 Inverness SAR landed at the scene and a winchman and their stretcher were lowered by the Coastguard to the casualty.
"Once secured in the stretcher the casualty was then recovered by helicopter and flown directly to Aberdeen Royal Infirmary where they were met by Aberdeen Coastguard Rescue Team.
"Use the designated paths, take notice of any warning signs and don't take any unnecessary risks. Please enjoy your coastal walk, but make sure you and yours come home again safely."
Councillor Alan Fakley of the Peterhead South and Cruden Ward, said his thoughts were with the injured man.
He said: "I would just like to remind everyone that the cliffs at Slain's Castle are dangerous cliffs, whether walking yourself or with your dog.
"They are dangerous and people should keep to the path and take care."
Councillor Stephen Calder, of the Peterhead South and Cruden Ward, said: "I just wish people were not going out so much at the moment.
"We're still being told to stay at home because of this virus and it's been 10 weeks now and I haven't been more than a two mile radius  from my home.
"The advice is don't travel more than five miles away.
"People shouldn't be going out to places like that at the moment, it's far, far too early to be doing that.
"And to be calling out emergency services while this is going on is taking emergency services away from dealing with the results of the virus."
We'll bring you all of the news as it happens throughout the day: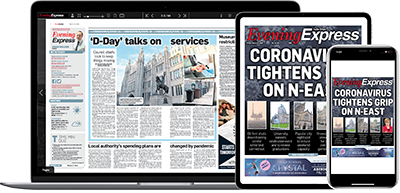 Help support quality local journalism … become a digital subscriber to the Evening Express
For as little as £5.99 a month you can access all of our content, including Premium articles.
Subscribe