Video: Glack Attack organiser creates kids' assault course in his Aberdeen garden
One of the people behind a popular north-east assault course has created one in his own back garden
Stephen Radcliffe, whose family organise the Glack Attack 5K event, created the obstacle course for this two children, Harry, 6, and Tom, 4, at their Aberdeen home.
The charity event is set to take place in September and features 25 obstacles over the 5K course.
And with adults having to run, crawl and paddle their way to victory, Stephen has given his kids a similar challenge.
The back yard course starts with a tunnel crawl before they attempt a score in a miniature basket ball hoop.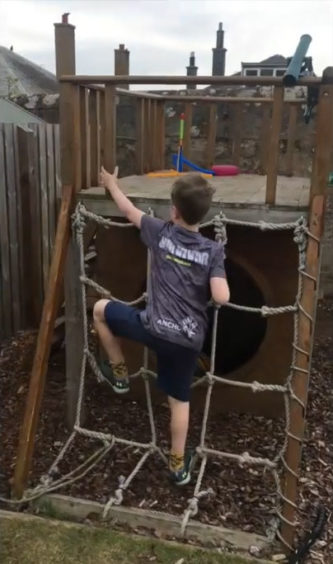 If you fail to score, it's penalty press-ups, as demonstrated by Harry in the video shared on social media.
Up next is a quick jog (about 2 metres) and up a rope climbing wall and back down the other side.
The kids were then challenged to clamber up and over a couple of obstacles before carrying a kettlebell around a short course.
The garden event even featured a tractor pull and a balancing act before scaling the another wall and hitting a ninja warrior-style button to launch a rocket and stop the clock.
Alongside the video, posted on the Glack Attack's Facebook page, was a call to action encouraging other parents to create something similar for their children.
This year's Glack Attack is still scheduled to go ahead as plan on September 5, with the early bid ticket offer extended until the end of this month.
Organisers have said if the event is delayed due to coronavirus, and participants aren't able to make any rescheduled dates, tickets will be refunded.