Video: Demolition team sees Aberdeen Nuart mural crumble
Demolition work has started on an Aberdeen building to make way for 140 flats in the city centre.
It comes after councillors unanimously approved Telereal Trillium's outline plans for Greyfriars House in the city's Gallowgate.
The demolition of the building, which is being carried out by Nottingham-based firm Edge, will cost around £350,000.
The building features two murals that were painted by artist Helen Bur as part of Nuart Aberdeen 2019, and so far the work has seen one of the art works disappear as the section it was on has been demolished.
Ms Bur said: "It's obviously sad to see them go, but it's absolutely part of the transient nature of street art.
"I'm happy they were part of the landscape for a little while, but change is inevitable and holds its own beauty.
"In a strange way I see it as a gentle reminder that nothing is permanent and that's okay, we must embrace the small beauties every day."
The artist added: "Hopefully Nuart will return with more artwork in Aberdeen in the coming years to ease the loss."
The warrant granted for the demolition was valid for three years and expires in September 2023.
Under the plans for the site, blocks of between five and seven storeys will be built once the existing building is demolished.
A car park with space for 33 vehicles will also be constructed, and access points and road junctions will be altered.
Adrian Watson, chief executive of Aberdeen Inspired, said: "The artworks produced on Greyfriars House by the wonderfully talented UK artist Helen Burr were a highlight of the Nuart Aberdeen 2019 festival and have been enjoyed by thousands of residents and visitors alike.
"Helen's work was an example of the phenomenal legacy left by the festival which has made our city centre a more welcoming, vibrant and culturally rich place for all.
"Of course we are very sad to lose this work and it serves as a reminder of the importance for people to get out and safely enjoy the fantastic range of street art in the heart of our city.
"We are grateful to the building owners for permitting the works to be created on the walls at Greyfriars House, respecting that there had already been an earlier plan to demolish the building to make way for much-needed family housing in the city centre."
The building opened in the 1970s and the Department of Work and Pensions (DWP) had a base there until January last year. It has been empty since.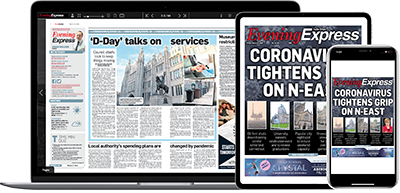 Help support quality local journalism … become a digital subscriber to the Evening Express
For as little as £5.99 a month you can access all of our content, including Premium articles.
Subscribe