Lights, camera, action, were called in Aberdeen as filming began on a new movie starring Peterhead's Peter Mullan.
Crews have been spotted shooting Marionette on locations in Rosemount Viaduct, Skene Street and Summer Street.
Residents and business owners were also treated to a fast-paced car scene being filmed, which closed a number of places, including Maberly Street and Charlotte Street.
The crew were in the area for a number of hours shooting take after take of a BMW racing through the streets.
Tayfun Kaplan, owner of Nargile Restaurant on Skene Street, said it was unusual to see filming happening in Aberdeen.
He said: "I was upstairs in the restaurant, but I saw them stopping people and cars from using the street.
"They shot it a number of times of the car turning in.
"I didn't see anyone famous, but it is unusual to see filming happening. I don't think it has happened before."
---
---
Diane Buchan, owner of hairdresser Croppers on Skene Square, added: "It was quite scary watching him drive at speed through the street.
"I was just heading back to work when I was stopped and they were filming.
"I've never seen anything like it before."
Ed Smith, location manager for the film, told the Evening Express: "Filming has gone really well.
"We managed to get all our road filming done in a couple of hours – quicker than we normally do.
"The council has been very helpful in getting the road closures done and residents have been very understanding throughout our filming."
It was announced last month that Braveheart star Peter Mullan, 58, would be returning to the north-east for the film.
Thick of It actress Rebecca Front co-stars.
Plot details are being kept under wraps, but it involves a therapist, played by Dutch actress Thekla Reuten, who loses her grip on reality when a 10-year-old boy claims he can control her future.
Principal photography for the production started last month in Luxembourg before moving to Scotland.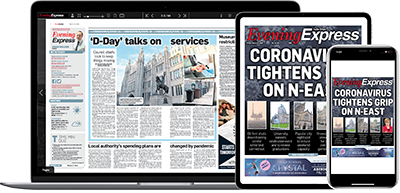 Help support quality local journalism … become a digital subscriber to the Evening Express
For as little as £5.99 a month you can access all of our content, including Premium articles.
Subscribe