Thousands turned out with their rainbow flags to help celebrate the inaugural Grampian Pride event in Aberdeen's city centre.
The sun-drenched celebration took place on Saturday and included a parade down Union Street led by Aberdeen-born Hollyoaks actress Annie Wallace.
And 5,000 people also enjoyed a sold-out day of festivities at the Grampian Pride Village on Queen's Links.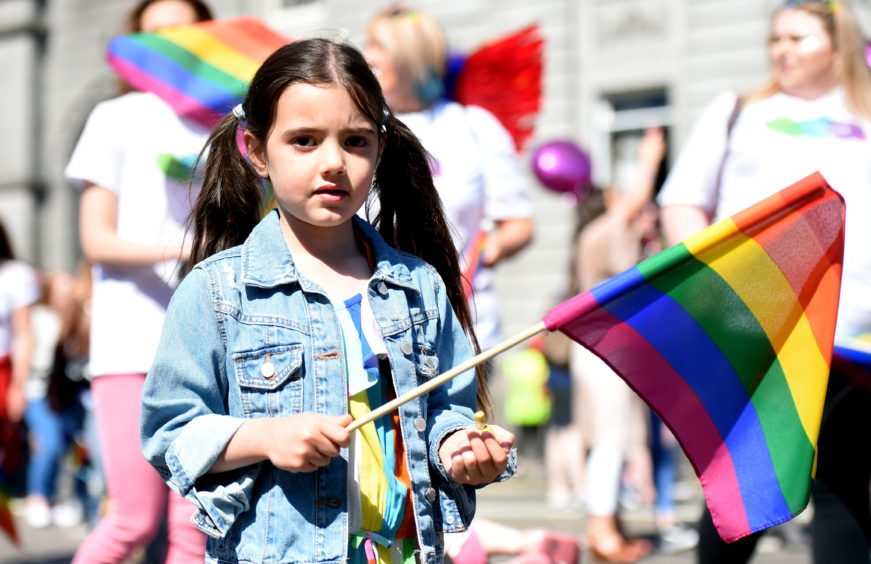 The event was headlined by Banff singer-songwriter Sandi Thom.
Deejay Bullock, one of the event's organisers, said: "It was an absolutely fantastic day – even the weather came out for us.
"It was just amazing. The parade was fantastic – there were about 2,000 people there.
"Everyone joined in and made it the most special day. The city was buzzing.
"We were expecting a few protests or some homophobic comments but there was nothing like that at all."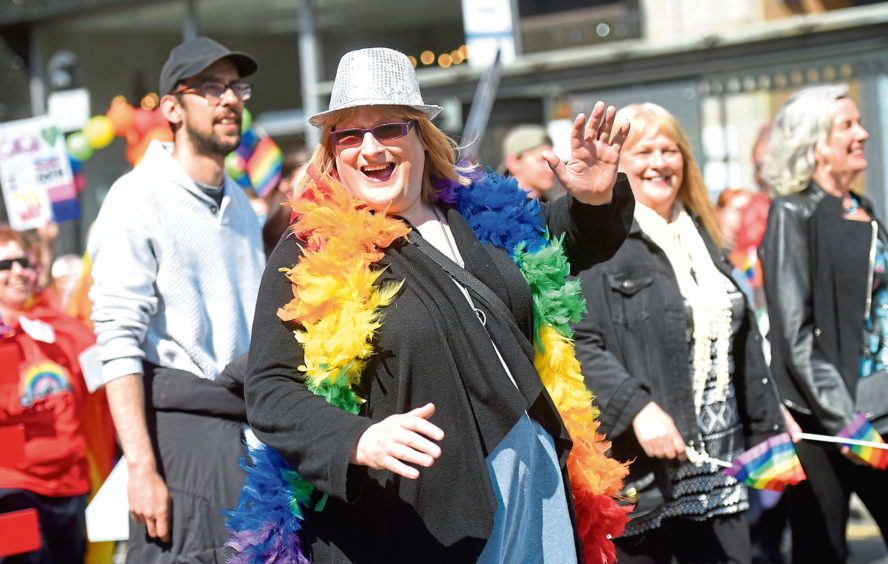 Deejay is already looking forward to next year's Pride parade, which he is hoping to make an even greater success.
He said: "People are already asking about next year's event.
"Businesses want to be involved as well – town was so busy and shops, cafes and bars all benefited.
"We want to make it bigger and better for next year.
"It is more than I could have possibly hoped for.
"I've had a vision in my head for this day for two years now and seeing it come together was absolutely incredible.
"But when all the people arrived at the Pride Village, it was beyond what I'd dreamed.
"If it was this good the first time around, then it can only get better from here."
Katherine Stark, 19, from Bucksburn, attended the parade and Pride Village with her girlfriend Gemma Watson, 18, who lives in Inverness.
Katherine said: "I was surprised when I found out Aberdeen would be holding its own Pride but was really pleased. It makes me very proud to be from Aberdeen today."
Gemma added: "I think it's brilliant. Inverness doesn't have a Pride so to be able to go to this one instead is fantastic.
"It shows that progress is still being made. We don't get any strange looks here and it feels very freeing."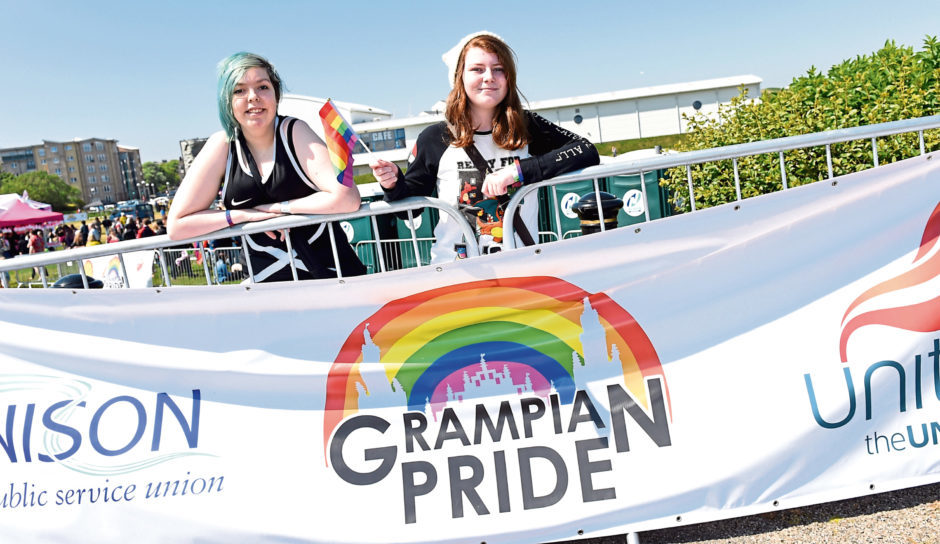 Barista Ben Caldicott, 39, from Woodside, has been an activist for years and said he was delighted to be at the event.
He said: "I have done the Pride events in Edinburgh and Glasgow. It's becoming more acceptable to be open about your sexuality.
"Unfortunately, we have a long way to go but this event makes me very proud of Aberdeen."
Friends Abbey Write, 19 and Drew Young, 20, both students at Aberdeen University, said they loved the atmosphere.
Abbey, who lives in Bridge of Don, said: "It is fabulous to be here.
"It's such a great thing for the city – the event has been so much fun and much bigger than I expected.
"I think it's quite a significant moment for Aberdeen and that is fantastic."
Drew, who also lives in Bridge of Don, said: "It is such a huge event – it's brilliant to be involved.
"It's also nice to meet other people and everyone has been so friendly."
The day was extra special for one happy couple, who used the event as the perfect opportunity to get married. Nydine Park, 29 and Joy McIntosh, 44, tied the knot at Union Square's pop-up wedding altar, created as part of the celebrations.
Aberdeen couple celebrate wedding at first Grampian Pride event
The couple, both from Aberdeen, celebrated their big day by taking part in the parade down Union Street before rushing off to get hitched.
Their after-party was then celebrated at Cheerz Bar.
Joy, a mental health nurse, said: "It was an amazing day – it was just perfect.
"We went to the march and then had some time to ourselves to get ready before we had the ceremony.
"It was surreal but amazing – everyone did a really good job with it.
"The registrar was just brilliant."
She added: "It was the perfect wedding for us.
"It was certainly an unusual one but it all just came together brilliantly."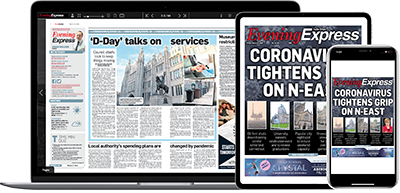 Help support quality local journalism … become a digital subscriber to the Evening Express
For as little as £5.99 a month you can access all of our content, including Premium articles.
Subscribe