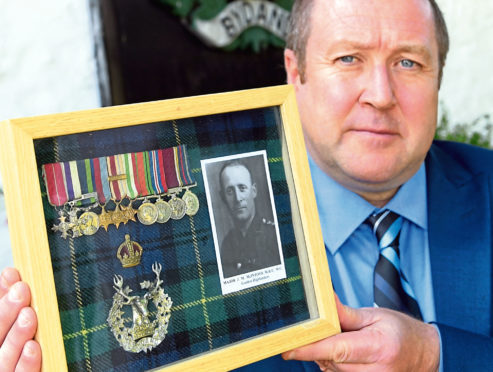 Veterans minister Graeme Dey has donated medals given to his grandfather in the Second World War to an Aberdeen war museum.
Mr Dey gave the medals to the Gordon Highlanders Museum in Aberdeen to display as part of a long-term loan.
The set, which includes the Military Cross, was awarded to his grandfather Major James M. McIntosh at El Alamein, Egypt, in 1942.
Major McIntosh was born in Aberdeen in 1904 and lied about his age to join the Castlehill Barracks in 1921.
He went on to serve as lieutenant in the 7th Battalion in 1939 and became camp commandant in 1943, before retiring from the army in November 1945.
He served in Turkey, Malta, Egypt, India and Palestine.
The medals which have been donated to the museum include a Member of British Empire (MBE), Military Cross (MC), 1908-1935 "Mohmaned" IGSM, a 1939-45 War Star, Africa Star for the 8th Army, Italy Star, 1939-45 Defence Medal and the 1939-45 War Medal.
Mr Dey also donated Major McIntosh's regular army long service and good conduct medal for 18 years' service and the Civil Defence Long Service Medal for 15 years.
Mr Dey travelled to the Granite City yesterday to hand the awards over.
Mr Dey said: "It's something I'd always wanted to do. The medals have been sitting in the house for years. They actually belong to my son, Lewis.
"We got chatting about it and I'd long thought the place for the medals was in a facility like this.
"I've visited museums on mainland Europe and the setup there really brings home to you that moment in history. This place brings home the history of the Gordon Highlanders and I couldn't think of a more appropriate place for the medals to go to.
"We all agreed this was the right thing to do and I was delighted at the response from the museum.
"I'm looking forward to coming back and seeing them on display."
Mr Dey, MSP for Angus South, added: "He joined and rose through the ranks to become a major.
"He was never too keen to talk about winning the Military Cross. I once asked him how it came about and he said 'well, I kind of led my men into a minefield and I had to get them out of there and the best way was to go forward'.
"We were incredibly proud of them and he was incredibly proud to be a Gordon Highlander.
"So much so that years later he helped form the Old Comrades' Association.
"It's great. I know he would have loved it because of his pride in the regiment.
"This is what we are about in the north-east. He would always tell stories but getting him to talk about his experiences in the Second World War was really hard. Like so many of the guys, he rarely opened up about it."
Curator of the Gordon Highlanders Museum Ruth Duncan said: "We are absolutely delighted to be able to display the late major's medals to our visitors and to share his story of service with our visitors who come through our doors every day.
"While we have a sizeable collection of medals, each one tells a unique story so we're pleased we can expand our story of the Gordon Highlanders, particularly in the Second World War. Sadly, fewer and fewer of these veterans are around so it makes it all the more important for us to remember them and continue to tell their stories."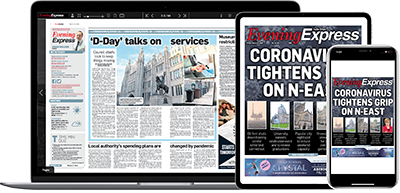 Help support quality local journalism … become a digital subscriber to the Evening Express
For as little as £5.99 a month you can access all of our content, including Premium articles.
Subscribe