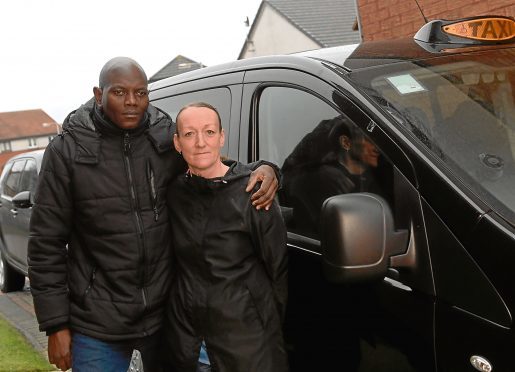 An Aberdeen man says he is more than £1,000 out of pocket after vandals damaged his taxi.
Tony Adu, 54, was alerted to the damage by neighbours in Cove Bay in the early hours of December 28.
The full-time taxi driver, who lives with wife Lynne, 44, was shocked to find that vandals had smashed the two windows on the driver's side of his Peugeot Euro taxi.
Lynne, who works in the oil and gas industry, said this was the first incident of that type they had experienced in the 15 years they have lived in their house.
She said: "The neighbour came to our door at around 8am and we were so shocked.
"Our bedroom faces the front of the house but we hadn't heard anything at all.
"We live in a little cul-de-sac and this hasn't happened to us before."
The vandals targeted only one car and did not take anything from the taxi, merely causing external damage.
Lynne added: "Nothing was taken, and there was a sat-nav in there and a coin holder."
Tony has now changed his routine and keeps the taxi empty during the night-time, but he said he fears the same thing happening again.
He said: "I couldn't work for two days because of it – I probably lost around £500 in wages.
"The repairs cost around £700, I couldn't afford to wait to claim it back on the insurance."
He added: "I take everything out now, I'm worried it will happen again. It definitely put a downer on the festive period."
The couple are not hopeful that the police will catch the perpetrator.
Tony said: "Police have said that there's not much to go on without CCTV so I'm not too hopeful."
Police Scotland confirmed the incident had been reported to them.
Anyone with information is asked to contact police on 101 or Crimestoppers on 0800 555 111.