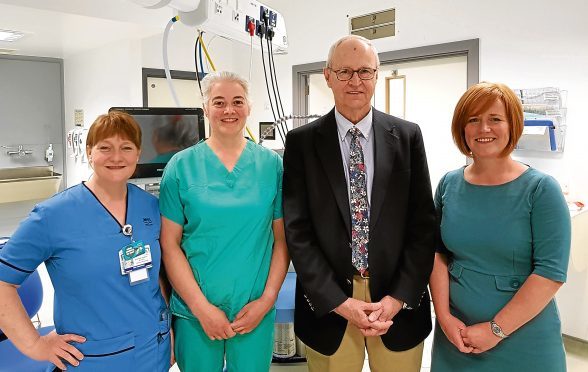 Health bosses have met professionals from America in an effort to slash North-east operating room waiting times.
NHS Grampian welcomed a team from the Boston-based Institute for Healthcare Optimization (IHO).
The organisation was helping to look at ways to improve the delivery of healthcare in the North-east.
Between January and December 2016, a total of 905 operations were cancelled then rescheduled for non-clinical or capacity reasons by NHS Grampian.
The team was joined by Scottish Government representatives for a tour of Aberdeen Royal Infirmary's main theatre suite.
They also met members of NHS Grampian's project team who are working to transform surgical services in the North-east.
Alan Cooper, who is leading the team working on the project, said the American visitors' support and knowledge had proven to be "invaluable".
He said: "At the present we are experiencing significant pressures on our operating theatres.
"This has led to patients waiting longer than we would wish. This project is aimed at coming up with a long term, sustainable way of working that makes the best use of space, time and staff expertise."
Managing the number of scheduled patient operations versus accident and emergency operations has been a priority of the organisation and team.
Sandeep Green Vaswani, senior vice-president of the IHO, said: "Optimising patient outflow by reducing artificial variability has been shown to improve quality and safety of care, performance on access standards and staff and patient satisfaction.
"Given its size and location, NHS Grampian is in a unique position to achieve many of these benefits for patients and clinicians."
Martha Hopkins, from the Scottish Government, said: "The Scottish Government has been working with the Institute for Healthcare Optimization to provide better quality and safety of care for patients. Building on work in four pilot boards – Borders, Glasgow, Forth Valley and Tayside – other health boards across Scotland are now engaged in the work to use 'Operations Management' techniques to reduce variability."