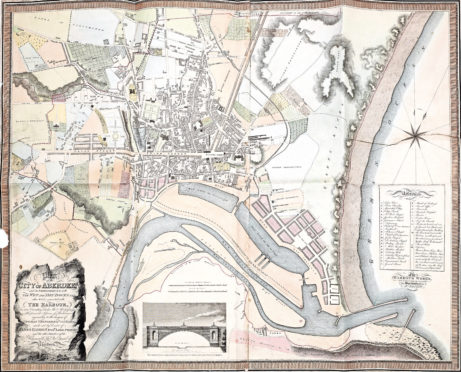 A set of antique sugar casters made in Aberdeen almost 300 years ago could fetch up to £15,000 at auction.
The one-of-a-kind set of three silver sugar casters, inset below, were made in 1720, and are due to go under the hammer along with a range of other items at the Bonhams Scottish sale in Edinburgh next month.
Bonhams, the fine art auctioneers and valuers, believe they are the only set of three Aberdeen casters to survive from the 18th Century.
The items could be sold for between £10,000 and £15,000.
Fiona Hamilton, the silver specialist for Bonhams, said: "This would be specially made for someone very wealthy, possibly a sea merchant, to show his wealth. Sugar was expensive so to have sugar casters was particularly a sign of wealth.
"It would definitely have been made for commission because it would be very expensive to buy and to make.
"The fact that they have managed to survive this long is particularly rare, for these types of things. They would normally be split up between family members.
"The fact that they were made in Aberdeen is also very rare.
"If they were made in Edinburgh where silver was much more common, they would maybe fetch half the price.
"There is not much information on the maker, just where he was living and where he worked, but he definitely lived in Aberdeen and they were definitely made there."
The sugar casters were made by George Robertson, who was an independent maker from 1708-1726, and the third son of George Robertson, the town clerk of Aberdeen.
He was apprenticed to William Lindsay in 1696-1697 and was a journeyman with Alexander Forbes in 1703.
Another rare item which will feature at the sale is a 19th Century mahogany-cased longcase clock made by John Gartly, whose work is a particular collectors' item in Aberdeen.
Gartly, who was born in 1749, made everything from clocks to scientific equipment, including furniture for Aberdeen Cathedral, King's College Chapel and The Tolbooth in Aberdeen.
The clock could reach between £5,000 to £7,000 at auction.
Kenneth Naples, the specialist for European Furniture and Works of Art at Bonhams, said: "They call it a regulator, which is actually a clock thats sole purpose would be telling the time. This would have been a very expensive item for the time.
"It would not have been for just a regular person – definitely for some sort of amateur scientist because of the exact time.
"A farmer would not have this in his house."
Others items to go on sale with an Aberdeen connection include a late 18th or early 19th Century silver-mounted cowrie shell snuff mull.
Sniffing snuff – a smokeless tobacco – was a popular habit of the time.
According to experts at Bonhams, the silver item, by William Byres, is rare due to the fact that it would have been easily broken.
Another rare item is a pair of hardstone studs from 1873 made by M Rettie & Sons.
They have been engraved with "GLENCOE 13th Sept.r 1873" which, according to Bonhams, may relate to an incident which occurred in Glencoe when Queen Victoria was approached by a Highlander asking her to drink from a quaich which belonged to Prince Charles Edward Stuart.
Other items include a planning map of Aberdeen from 1810, while another map shows the grounds of the grand Manor Place of Logie Elphinstone at Logie Durno, near Inverurie, dating from 1821.
The mansion is known nowadays as Logie Country House. A series of books published in Aberdeen which tell the story of the life and adventures of Prince Charles Edward Stuart – more affectionately known as Bonnie Prince Charlie – could sell for between £150 and £250.
Also going under the hammer is an album of sketches from across Scotland by famous artist Arthur Forbes, including Old Aberdeen Cathedral, as well as views across Aberdeenshire.
These items will go on sale on May 15 at Bonhams' gallery space, on Queen Street, in the capital, while a golf club from 1896 which has been stamped with the word "Aberdeen", inset above, will go on sale on May 1.
To view these items and for more information on them go to bonhams.com/auctions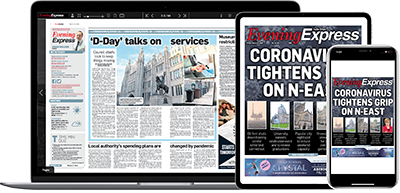 Help support quality local journalism … become a digital subscriber to the Evening Express
For as little as £5.99 a month you can access all of our content, including Premium articles.
Subscribe